REVIEWS

Jack Nicklaus' Greatest 18
Holes of Major Championship Golf


I confess. In years past, I've been guilty of golfer abuse. Why spend all that time and money chasing a little white ball over acres of carefully coiffed landscape when you could be fishing?
Then I discovered
Jack Nicklaus' Greatest 18 Holes of Major Championship Golf
, Accolade's newest golf simulation game.
Greatest 18
can make a golfer out of anybody-and not just with its exquisitely detailed courses or its realistic play action. This program does more than bring manicured turf to your screen; it puts that turf under your feet and a club in your hands. It confronts you with the decisions, challenges, and tension that make up the full golf experience. Before you know it, you're hooked.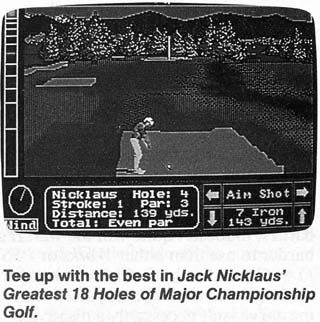 Two of the game's three coursesColorado's Castle Pines and Arizona's Desert Mountain (Cochise)-were designed by Nicklaus, with all the challenge you'd expect from the master. The third, Jack's Greatest 18, is comprised of Nicklaus's 18 favorite holes from courses throughout the U.S. and Great Britain, such as Pebble Beach, Baltusrol, Augusta, and St. Andrews.
Realistic course conditions include sand traps, water hazards, and the rough that borders the fairways. Cart paths can make your ball take unexpected bounces, even off the flagstick. Since pin placement is random, no hole ever plays the same way twice. If all that isn't enough keep you on edge, Jack Nicklaus himself is lurking in RAM, watching your every swing.
The two play options are stroke and skins play. Stroke play is the more traditional game, in which you try to shoot the lowest total score over 18 holes. Skins play launches you into high-pressure, high-stakes one-on-one competition. Each hole has a cash prize attached to it, which grows as the game progresses. The lowest score takes the hole and wins the prize. The stakes and the tension rise fast.
Create your own male or female player, and the program responds with appropriate graphics. You can also specify whether you're a beginner or expert and from which tee you'll play. If you're a beginner; the program chooses your clubs, your shots are less troubled by wind, and your slices and hooks are less extreme. Experts get none of these advantages.
You can customize opponents or choose from a menu of nine preprogrammed golfing buddies, including the Golden Bear himself. It's a tremendous temptation to take on Nicklaus, but be forewarned: He's a magician with that golf ball.
Although you can practice your driving and putting on special screens, as well as try out individual holes, the real challenges come on the courses. Before you tee off, a maplike aerial view shows you what you're in for. Thereafter, you get a ground-level view, although you can toggle to the overhead view at any time.
Making a shot is straightforward. An onscreen flagstick shows you where the hole is located with respect to your ball. Aim your shot by moving an "aiming ball" right or left with the cursor keys. This lets you compensate for wind (with the help of an onscreen wind indicator) or, when putting, for the break of the green. (The break of the green is also indicated on the screen.)
Swinging is a three-part operation that makes use of a calibrated power bar. Tap the space bar to start your back swing; when you reach the desired point, press the space bar again to start your downswing. Press the space bar once more to make contact with the ball.
You have a lot of flexibility in your swing. For long drives, you'll want to go for the longest possible shots by bringing your club back to (or even beyond) the 100-percent full backswing point. Chip shots will call for less power. You can even intentionally hook or slice if the situation requires it.
The program isn't copy-protected, but you must answer an onscreen question about the documentation before you can play. Two wrong answers stop the game. The program does work with monochrome graphics adapters, although a lot of realism is lost and some screens become, hard to decipher.
Like all first-class simulations,
Jack Nicklaus' Greatest 18 Holes of Major Championship Golf
builds tension by building realism into every detail. You'll cheer when your shots fly true. You'll mutter when they don't. The only constant is the weather-if the snow's coming down outside, just bring the fairway in.
Jack Nicklaus' Greatest 18 Holes of Major Championship Golf



For...




Amiga-$49.95
Apple IIGs-$49.95
Cornmodote 64/128-$29.95
IBM PC and compatible-$49.95





From.. .




Accolaue
217813 Stevens Creek,Blvd,
Cupertino, CA 95014
(408) 296-8400