REVIEWS

AlphaWorks
The integrated-software battlefield is littered with packages too weak to defend themselves from power users' demands and programs too unwieldy to make allies of computer novices. While
AlphaWorks
reigns victorious in some battles, it doesn't quite win the war. It's harder to use than either
Works
or
PFS
: First Choice, both of which can be operated right out of the box. A steep learning curve isn't necessarily a disadvantage, but if it doesn't translate into software power, the tradeoff can be casualties rather than capabilities.
AlphaWorks
offers the standard integrated-package lineup and is meant to be the only program you'll ever need. Its word processor boasts page formatting, a spell-checker, and a thesaurus. The spreadsheet and database are compatible with
Lotus 1-2-3
(version 2) and
dBase III
files. Spreadsheet data can be translated to a graph. The communications package has a scroll buffer, which automatically captures each session. You can swap data among the applications.
The program does have one out-of-the-gate handicap: no mouse support. Not every computer user is a mouse user, of course, and many people prefer to use keyboard commands along with
AlphaWorks
' extensive Control key-combination shortcuts. Still, users should have a choice, and
AlphaWorks
' screen setup is especially well suited to a point-and-click interface.
That omission isn't fatal, however, because the program achieves smooth integration and consistency through its keyboard commands. Each module features pull-down menus across the top of the screen that are tied to the function keys. Help is F1, while F10 toggles a series of pull-up menus located at the bottom of the screen. Those menus tell you which files are open in which modules; they also let you work within DOS or exit
AlphaWorks
.
The number of files you can have open at once is limited only by hard disk size, so most users-at least those
AlphaWorks
is targeting-will never run out of space. Of course, the more data that stays in RAM, the faster the program operates. Windows allow separate applications to be on different parts of the screen. This comes in handy when you're learning the program, as the extensive, cross-referenced online help facility can be put in one window and the application in the other. In addition, you can easily toggle between the modules with Alt-function key combinations, taking you to and from exact points. in each program. As in
1-2-3
, the / key offers universal access to the menu structure.
Chances are that any single
AlphaWorks
user will favor one module, but the four-way toggle offers versa tility, power, and easy control over computing tasks. Because of the consistency of commands, a user with strength in one area will soon develop prowess in another. For instance, if you use the word processor and database together, it won't be long before you master spreadsheet commands.
This characteristic, however, is part of any worthwhile integrated package. In this respect,
AlphaWorks
has no real advantage over
Works
or
First Choice
. If
AlphaWorks
has more powerful spreadsheet and database modules, much of this power will be unappreciated by the average home user who wants to manage simple computing tasks. Pure
1-2-3
and
dBase
compatibility isn't important to someone who wants to build a small database, finance plan, or writing application.
Alpha Works' real advantage is its rich user interface. The top and bottom menus are a good idea, conveniently placing all the functions within the user's control. The ability to mix and match eight foreground and background hues is another clear advantage over First Choice and Works, each of which offers an inflexible and unexciting color scheme.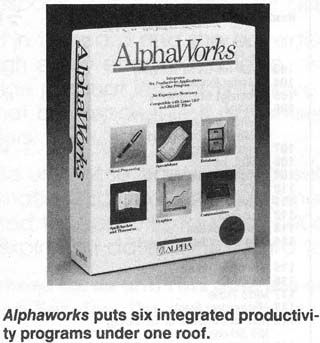 AlphaWorks
is a good idea for users who want to increase their computer's versatility. It can patch the gaps in your PC's ability and your own computer skill. It makes more sense to buy it than to purchase a low-end version of any of the singular modules. Still, anticipated updates to
Works
and
First Choice
may close whatever gap there is among these three competitors. Computer novices who haven't yet bought an integrated package will have to base their choice on their individual tastes and needs. As for power users, there's little in
AlphaWorks
to motivate a change from what they're already using.
AlphaWorks



For...




IBM PC and compatibles with DOS 2.0 or later, 512K, dual floppy driv and one floppy and one hard disk drive-$195





From ...




Alpha Software
One North Ave.
Burlington, MA 01803
(617) 229-2924