news & notes

Your Chip or Mine
In the age of safe sex, the computer has replaced the singles' bar. In full-page ads for the new Aline online service, an attractive young woman confides:
I met a guy last night on Aline-a really special guy. . . .
I was tapping away, zipping messages off to five guys at once and having the time of my life. But this one guy, he's really special. It almost seems like he's there to tuck me in at night.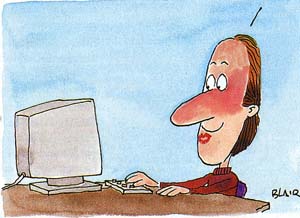 Illustration by Harry Blair
With the popularity of telephone party lines, it was only a matter of time before someone developed a modem-based chat line. With Aline, you select an alias, call up a list of other aliases, and send messages to anyone. Your telephone bill is automatically charged 95 cents for the first minute and 20 cents for each additional minute. If you don't have a PC, you can rent, as the ad puts it, "a cute little terminal for only $9.95 a month."
Aline is owned by NewCom Link, an American subsidiary of the French firm Le Nouvel Observateur, which already supplies videotex services to over 3½ million homes in France.
With additional software, U.S. Aline users can talk to Aline subscribers in France. NewCom Link hopes to make the U.S.-France linkup available to all users and feature it as a standard menu choice.
First available only in New York, Aline can now be accessed nationwide. So no matter where you live, you have no excuse for being lonely on Saturday night.