news & notes

Don't Touch!
Give games a hand. Your hand. Literally.
Brøderbund, until now only a power in the software industry, has put its hand in a silk hat and pulled out a most amazing hardware hare. U-Force, a nontactile game controller for the Nintendo Entertainment System (NES), lets players fly, drive, and punch without laying a glove on anything. The U-Force controller is about the size of a scaled-down laptop, and when it's opened in an L-shape, its sensors detect movement and velocity within a quartersphere about a foot in diameter. Put your hands within this invisible sphere, jab and punch while
Mike Tyson's Punch Out
is playing on the Nintendo, and your onscreen persona imitates you. Grab an imaginary yoke while playing
Top Gun
, and the jet rolls when you shift your hands and fires its cannons when you shake your hands.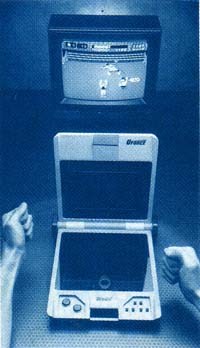 U-Force was created by David Capper, a former Mattel Toys executive; Stan Axel rod, a former electronics engineer from San Francisco's Exploratorium Museum; and Brøderbund. Scheduled for a spring 1989 release, U-Force will carry a $69.95 price tag, about the price of two NES game cartridges.
The device works with about 90 percent of Nintendo games, according to a spokesperson, but enhances only about 40 percent of the line. Demonstrations of the controller at the Winter Consumer Electronics Show in Las Vegas in January were impressive, and the teenager who swung fists and twisted wrists seemed to be enjoying himself.
So if you see some youngster convulsing in front of the television set, it's probably just the shake, rattle, and roll of U-Force.