news & notes

Bits in the Bank
Anyone who has considered banking by computer has probably balked at the high price. But that may change with CheckFree Technologies, a Columbus, Ohio, company that's bringing the cost of electronic banking down.
CheckFree lets you write as many as 20 checks per month from your IBM PC or compatible computer for $9.00 with the $29.95
CheckFree
software program (the $29.95 entitles you to one month of free service). If you write more than 20 checks, you pay an additional $3.00 for every 10 (or part of 10) over the limit.
Mike Sapienza, vice president of marketing, said the company keeps the cost down by dealing in volume. The company isn't dependent on any one bank, so it's not limited to a single bank's depositors.
There are few limits to whom you may pay through the system. "You can pay the guy who mows your lawn if you want," Sapienza said. The only exceptions are taxes and court-directed payments such as fines.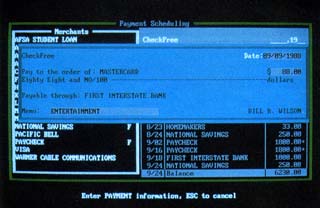 Sapienza said that the system is designed for home computer users, but that the company has gotten a lot of interest from small businesses, too. A PC-and-compatibles version of the software is available now. Macintosh and Apple II versions are slated for a March release.
To set up the system, you fill out a form that authorizes CheckFree to make payments from your account. The company submits that form to your bank, which is legally obligated to honor it, and furnishes you with a CheckFree account number. The company also sends you the menu-driven
CheckFree
program, which you use to set up your accounts and to transmit your payments. Use your modem to send your checks to the CheckFree processing center, which then routes them through the Federal Reserve System. To maintain security, all transfers are made with burst transmissions.
Besides helping you write and transmit checks,
CheckFree
can also be used to help balance your account and set up automatic monthly payments for bills like car or mortgage payments. Most transactions are posted the day they're sent, but the company advises you to send your payment at least three days before the due date to guard against unforeseen delays.
Other costs include $15.00 for returned checks (insufficient funds); $2.00 for nonaccepted payments; $10.00 for stop-payment orders; $3.00 per statement for receipts, records, and statement reproductions; and $6.00 for an extra manual.
If you're interested in CheckFree, you can write or call CheckFree Technologies, P.O. Box 897, Columbus, Ohio 43216; (614) 898-6000 or (800) 882-5280.