THE apple® GAZETTE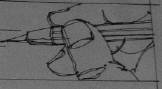 Corvus 11A Disc Drive
A User's Review
by
Michael Tulloch
103 White Cr.
Niceville, Fla. 32578
Manufacturer
Corvus Systems, Inc.
900 S. Winchester Boulevard
San Jose, California 95128
408 725-0920
Would you spend 4 or 5 times more for a disk than you spent for your Apple computer? That's right, $5,300 for an Apple compatible disk. It may sound like a lot of money, but it might be money well spent if you've got large data files or many programs.
The Computer Store of Destin, Florida recently received their first Corvus 11A disc drive. The owner liked it so much that he took it home!
I've used the unit but most of the following information is based upon interviewing Gary Workman, the store owner. I'll tell you what the Corvus disc is, some of its physical specifications and our experience with the unit. If you run a business or do large data reduction programming, you'll find it worth investigating.
The disc unit itself is a space age enclosure of black metal and dark plexiglas. A round wire cable connects the drive to its power supply. A ribbon cable connects the drive to an interface board in the Apple. The interface board plugs into a slot just like most other Apple peripherals. Since the Corvus only occupies one slot, the Apple can still accommodate floppy discs.
High speed is another positive feature of the Corvus. I couldn't accurately measure the difference between the Corvus and the floppy, but I'd guess the Corvus is more than ten times faster in both read and write. This means that serial or random access searches of large data bases become really practical.
One of the most impressive of the Corvus disc features is its capacity. It is equivalent to 82 standard Apple discs: 9.6 megabytes are on line. Each of the 82 volumes are identical in size to an Apple floppy diskette. What is almost as impressive is that this capacity is packed into two moderate sized boxes. One contains the drive (an IMI 7710 "Winchester" hard disc) and drive electronics. It measures 8¼ × 6 × 18 inches. The other box is the power supply which is 4 × 5¼ × 15½ inches.
Documentation is, as usual in new computer products, a weak point. Eight pages, including the limited warranty, were all that came with the unit. Gary was able to get the thing up and running but a couple of calls to the manufacturer were required. Newer units are supposed to come with more complete documentation. In any case, be sure you're familiar with Apple's 3.2 DOS before you jump in. You can't hurt the disc but you sure can hurt your data.
On the positive side of the documentation issue is the excellent telephone help and complete compatability with Apple software.
Another nice feature is the aforementioned complete compatibility with Apple DOS. The Corvus is completely transparent to the user. The volume number in the Apple I/O commands selects the disc volume just like the slot number does with multiple floppy drives. The only software difference is a new command, "CATALOG V99" lists the first program name from each volume. Auto boot is also available.
Gary's Corvus disc has been in use for two weeks with no operating problems. The device incorporates several safety mechanisms so that "head crashes" are apparently a thing of the past. An auto-write-stop feature on power loss is just one of these.
When this unit was ordered they were quoting 2-3 weeks for delivery. Gary's took a month. Delivery now looks like two weeks. This may change as their sales increase.
My only strong dislike is the power switch. It is located on the power supply. The power supply is massive and looks out of place among all the other sleek computer parts. It's unfortunate the power supply can't be hidden somewhere.
The Corvus seems an ideal mass memory device for a business, professional, or other interest requiring large information storage. Its price is steep for strictly hobby use. But for those who can afford it, or need it, it really helps make a small computer into The Big Apple.
APPLE RESOURCES
Apple Computer, Inc.
10260 Bandley Drive
Cupertino, CA 95051
Compute.
Apple Coordinator
900 Spring Garden St.
Greensboro, NC 27403
Mountain Hardware
300 Harvey West Blvd.
Santa Cruz, CA 95060
Personal Software
592 Weddell Drive
Sunnyvale, CA 94086
Automated Simulations
Dept. J
P.O.Box 4232
Mountain View, CA 94040
Programma
3400 Wilshire Blvd.
Los Angeles, CA 90010
Rainbow Computing, Inc.
Garden Plaza Shopping Center
9719 Reseda Blvd.
Northridge, CA 91324
SSM
2116 Walsh Ave.
Santa Clara, CA 95050
Sub Logic
Box V
Savoy, IL 61874