FROM OVER
THE BIG WATER
By Marshal M. Rosenthal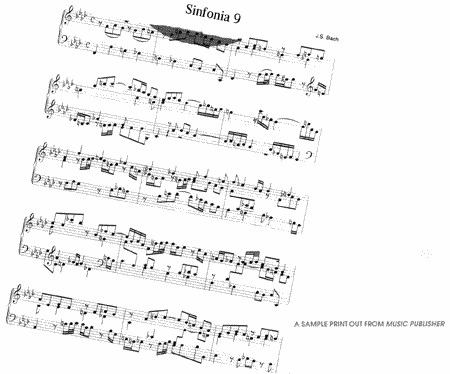 T
his month, we'll continue to play "hooky," hanging out in England and enjoying the "fine" weather that flip-flops between warm, sunny days and hailstorms followed by unrelenting cold rain. We haven't quite picked the bones clean from the ST show yet, so let's give it one more go.
One of the perks of being in the thick of things is that you get the chance to see companies that don't plan to bring their products to the States-at least not yet. As an example, there's Take Control's
Music Publisher
. It has the distinction of being the first page-layout-oriented music desktop-publishing program designed specifically for Atari users allowing the creation and printout of full orchestral scores.
Professional musicians, composers and copyists will find this program a godsend. Mouse and keyboard combinations let you insert notes and symbols anywhere, do deletions, cut-and-paste operations, even insert or remove spaces for adjusting appearance. Multiple-window editing enables copying between files, orchestration and part extraction. The physical size of the composition can be varied through a page-layout window, allowing A3,A4,U.S. legal and a variety of other sizes
Note support includes cue-size notes three different shapes for note heads. Plus you can create one, three, four or five line staves. There's a full repertoire of symbols, common and user-defied time signatures, even two sizes of clefs. Text can be placed anywhere on the page, with three fonts supplied (use any font or size with GDOS support), plus underline, bold, italic, light and outline text effects.
Printer drivers are supplied for Epson FX/compatible (9 pin), Epson LQ/compatible (24 pin) and the Atari Laser printer (a Postscript print driver is currently under development). Not for the hobbyist,
Music Publisher
costs 249 pounds (about $450)really delivers. On the down side, there isn't any MIDI support. Take Control does promise this in a future upgrade, though, and they also note a nunber of other enhancements in the works as well, such as grouping notes together for mass movements and keyboard shortcuts.
Music Publisher
requires a minimum of one meg, although two would seem appropriate if you load any accessories with it. (I recommend using Codehead Software's excellent
G+Plus
GDOS replacement with
Music Publisher
.) A monochrome monitor will give the cleanest image, although color can be used effectively with just a bit of the Toolbox images disappearing at the bottom left; plan on viewing the work at the lowest magnification. One double-sided drive will handle everything if necessary, but two drives are better and a hard drive is best of all.
Sticking with music for a bit, let's check out The
Music Matrix
. This disk-based magazine from Scotland does more than just provide interesting music to listen to; it lets you participate in the playback of other musicians' work. You can learn arrangement and composition by studying scores and progressions, and investigate bass lines and drum tracks from the data supplied on the disk. Make your own changes and then listen to what you've created (keeping in mind that the original music should be respected; I'd make a backup first).
Programs include patch editors and sequencer demos, plus public-domain materials (although the disk mostly contains original materials produced at some cost of time to the professional musicians who support it). Lou Nisbet, editor, invites your involvement and support. Feel free to drop him a line.
From Capo Software in Holland comes
That's Write
. New word processors are always regarded skeptically at first: "What features could they possible have that I'm not getting now?" In this case, many. Start with optimized pagination, auto formatting, automatic indexing and table of contents. Then add text and graphics on the same line (text being high-quality GEM-IMG format), with wide support for both built-in fonts (proportional, pica, elite, 15 dpi, enlarged, double size...) and graphic GEM fonts (Helbo, Symbol, Gothic, Times ... ). This is all in one "What You See Is What You Get" package that works on color as well as monochrome monitors (but color doesn't look half as good as mono).
Add paragraph and page layouts, mouse and keyboard control, even macro functions. Want more? Try a built-in spelling checker (dictionary goes into RAM if there's enough memory), file functions, font editor and resident snapshot accessory. The keyboard can be edited for international characters, and there's also a mail-merge with interface to some databases.
A wide range of 9- and 24-pin printers is supported, as well as lasers (including Atari's) and daisy wheels. Just plan on having plenty of memory for this baby-at least one megabyte.
We haven't scoured all the games from the pot this month.
Populous
fans will be happy to learn that Electronic Arts U.K. will shortly be coming out with additional "world" data disks. One will be
The Bit Plains
, featuring (did you guess?) a landscape comprising a programmer's world. The ground will consist of printout paper, with various settlements composed of such computers as ZX81s and Crays, and the landscape will be dotted with pencil stubs and cigarette butts. (They smoke much more over there.)
Many have heard of JRI's JATO accelerator board, developed here in the States. Hypercache comes from Germany and also consists of a 16MHz 68000 chip contained on a circuit card. Like JATO, the original 8MHz CPU must be unsoldered and replaced by this board. Wires must also be attached to pins of both the Shifter and sound chip. Again like JATO, only internal calculations can reach the higher processing speed.
The most striking difference, besides the price (about $250 as opposed to JATO's $99), is the built-in RAM cache. This enables information being written to RAM to go into this CPU cache and be "massaged" at the higher speed. Speed increase is rated at about 20-30 % over normal in most situations as a result. (Software control over the cache can be activated through an included desk accessory.) Unlike JATO, there is no provision to tone the board down to 8MHz.
Well, every good thing must come to an end. In this case it means my returning to New York and facing tons of junk mail and bills. And maybe a few ST goodies in the post...?

Marshal M. Rosenthal
is a writer and New York-based photographer whose work has appeared in major publications throughout the world. He specializes in children and in the electronic entertainment field.
Products mentioned:
BIT PLAINS
Electronic Arts U.K.
Langley Business Centre/11-49 Station Road
Langley, Nr. Slough Berkshire, England SL3 8YN
HYPERCACHE
Third Coast Technologies
Unit 8, Bradley Hall Trading Estate
Standish, Wigan
England WN6 OXQ
MUSIC MATRIX
Jongleur House
14 Main Street, East Wemyss, Fife
Scotland KYl 4RU
MUSIC PUBLISHER
Take Control Software
Jonic House
Speedwell Road
Hay Mills, Birmingham
England B25 8EU
THAT'S WRITE
Capo Software
Distributed by Cavendish Distributors, Ltd.
5 Tottenham Court Road
London, England Wl