I
often look down at my Atari and wonder where I would be today if I had had access to a computer at a younger age. What if, instead of faithfully watching
Leave It To Beaver
every day after school, I could have explored the countless adventures contained in a personal computer?
It disturbs me to think of the time I wasted during my younger years sitting on the livingroom floor, hunchbacked and stupefied while sitcom after sitcom blinked in front of my face.
Today I think of my computer as an extension of my personality. Where my computer is located, how it is set up, how it is maintained, the software I prefer and, of course, the seemingly endless amount of stored information all say something about who I am.
There is a computer club in my area that shared some of these ideas with a group of underprivileged children during a computer symposium the group held at a local meeting hall.
Giving up time with their families, not to mention time they could have devoted to themselves, the members of ACCESS (Atari Computer Club East Side Scene) ventured into the rain one early November morning with a mission in mind: Shielding their computers from the rain, they trekked to the Fairview Heights, Ill., city hall to conduct the second annual Big Brothers/Big Sisters Computer Symposium, a program the youth organization's officials applauded.
ACCESS President Tom Guelker told me the purpose of the symposium was to give the children participating in the BB/BS program in his club's area a chance to learn something about the machines that will influence them so much in the future.
Interviewing him in the basement of his home in Collinsville, Ill., I started to identify with what he thought his Atari computer could do for an underprivileged child.
"I want to steer these kids toward the good way of life, get them on the right track. A computer can get their brains working a little bit as opposed to a television set that they'll just sit and stare at all day."
I asked Guelker what made him get involved with the BB/BS organization and found that he had a genuine interest in the development of our youngsters, especially those who are disadvantaged.
"I've always had a soft spot in my heart for disadvantaged children," Guelker said. "They really have a challenge ahead of them. It makes it even worse when they're missing a parent, as with these kids. With the financial difficulties experienced by many single parents, many of these kids won't have the chance to actually own a computer. And if they don't have some exposure to computers by the time they get to high school, they will be at more of a disadvantage."
Expanding on the use of computers in today's high schools was John Sullivan, an 18-year-old member of ACCESS. In telling me about himself, he offered some interesting thoughts on the importance of computer knowledge in high school.
"I use my 800 a lot for writing reports," Sullivan said initially. He said having his own computer gave him the extra time at home to complete his classwork, much of which involved computers.
"It's important to know how to use them because you can do so many things on them if you put your mind to it. It's just mathematics."
Sullivan, who plans to attend pilot training school after graduation, said the kids who are not computer literate have a rough time in high school.
"When I took computer math, which is just basic programming, there were a lot of kids who took it because they needed a computer credit and they really had a rough time. The same went for an English class I took that required basic computer skills; the same kids were having problems."
Sullivan said his school uses computers in accounting, drafting, math, English and, of course, data processing.
It's obvious basic computer skills are something every high school student can benefit from. But according to Barbara Cempura, executive director of the Southern Illinois Big Brothers and Big Sisters organization, her members, who range in age from seven to 14, can benefit from computer training right now.
"It's a very positive experience when a young person can sit down to learn a new kind of skill and is able to achieve some success with it. I think that builds selfconfidence and gives the youngster a certain sense of control. Being able to do something, and seeing that there is a positive reaction from someone, gives them the encouragement to continue," Cempura said. "This was a very special type of activity for the kids. Generally, our activities include baseball games, art museums, etc. We do try to do things that are educational as well as recreational, but they are always designed for them to have fun."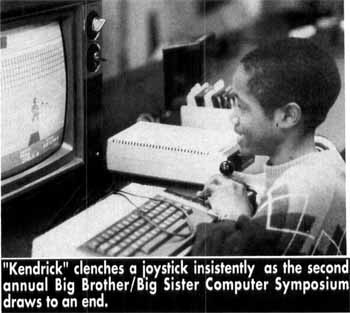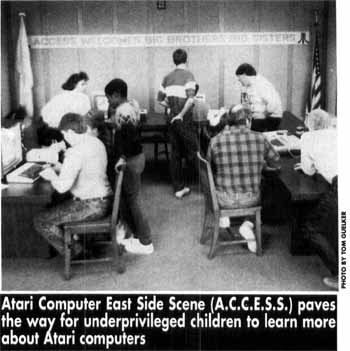 Cempura told me that this particular outing, and others like it, is geared specifically for the children without Big Brother or Big Sister companions. She explained that there are many children who fall into this category.
"Right now we have about 140 kids in our area without big brothers or sisters," Cempura said. "I really appreciate the fact that [ACCESS] came to us first and asked if they could do something like this. I was really impressed that they brought all their computers to the meeting area, set them up and then took the time to do some training with the youngsters. The time, the giving of themselves and the sharing of their talents was greatly appreciated."
Like Cempura said, many of the kids involved in the Big Brothers/Big Sisters program, although at an obvious disadvantage with only one parent, at least have the advantage of sharing a few hours a week with their Big Brother or Sister; however, the children in attendance at the seminar were even more unfortunate because they had yet to be matched with a companion.
Research has shown that although not all children from single-parent homes need a big brother or sister, they are more likely to have problems with their self image and confidence. They tend to experience trouble in school, loneliness and low aspirations for the future. The interest and care shown by companionship have been proven to raise selfesteem and confidence in the child's earlier years.
What can a computer do for an underprivileged child? I'm neither a computer wizard nor a psychologist, but it seems to me, after listening to the children and the members of ACCESS describe the symposium, the computers came to reflect the children's own personality. They made the computers do what they wanted them to do. Whether it be acting out aggression in a harmless yet mayhem-ridden video program or expressing their feelings with the help of a speech synthesizer program, the children, whether they knew it or not, exhibited self-expression, one of the most important aspects of child development.
According to Paula Cobb, coordinator for the Best St. Louis BB/BS office, who accompanied the children to the symposium, it was very helpful to them.
"I thought they loved it. They were very enthusiastic. The one thing that impressed me was their attention span. The children were very interested in the computers and kept their attention on them most of the time we were there," Cobb said.
Admitting that she didn't know a great deal about computers, Cobb said she was certain the hand-eye coordination skills necessary in playing some of the computer games were helpful to the children.
"One game the kids loved that really seemed challenging was the karate (
Karateka
) program. I remember the guys in particular liked this game. For a while it seemed to be the only thing being played," Cobb said. "There were also some educational programs the kids worked with, which seemed beneficial. The word games and some of the artwork and graphics they worked with really seemed to help them express themselves."
Keeping in mind the symposium was being conducted by a computer users' group, not trained child-development instructors, Cobb's next remarks were complimentary.
"I thought the ACCESS group showed great patience and kindness in demonstrating to each of the children how to operate the computers. I think the kids will remember that."
When asked about his knowledge of child development and his objectives in organizing the seminar, Tom Guelker, the automobile mechanic from Collinsville, Ill., and president of ACCESS, came clean and described some of his hidden motives for holding the training session.
"Since I became president of ACCESS in 1986, I've always thought community involvement and community relations something I wanted our group to get involved in," Guelker said. "It allows people to learn more about our group and computer enthusiasts in general. Sometimes a nonuser may think we're a bunch of nerds. I remember the first time I went to an ACCESS meeting, even though I had a computer and knew quite a bit about it, I was still wary of walking into that room because I thought there were all these strange people in there. But eventually, I found out it was just a group of people who shared a common interest. We're no different than the car clubs or the Boy Scouts or anything like that," Guelker insisted.
In holding the computer symposium for the children, Guelker said that, along with his original objective, which was to assist the kids, his next objective was to help the club attract interested individuals, no matter what their age.
"The older folks tend to be steadfast in their ways, and in some cases they really don't understand computers. But the kids are not intimidated by them. I think they are more mystified by them rather than stupefied. At the symposium, I remember watching a little girl working with the speech synthesizer program. From the start I could tell she may have been a little introverted. However, the more she typed, the more she seemed to be saying, and the more she said, the more she brought herself out in what she said. It wasn't so much the words, but the content of those words. I think she acted that way because she could identify with the computer. She was right there, face to face with it, and it wasn't judging her. I also remember Kendrick. From the time he came in early in the morning, he was really having a ball. He played one game for about five minutes and all of a sudden, he was the expert. Then he was showing everyone else how to do it. I could tell he wasn't shy at all."
Guelker said the enthusiasm in the room inspired his members also. "The members thought the whole thing was pretty neat. They reserved that special time to devote to the kids. You know they had other things they could have done that day that may have seemed more fun, but after seeing the kids' eyes light up, they really started to have fun too.,,
Guelker said that with the success of the computer symposium, he already has plans for other activities designed to help his club and other people in the community.
His next project involves a similar symposium to be held at a local mall, which will be aimed more toward adults. He said getting the children interested is the easy part. Next he will try to teach the older folks about the psychological and academic benefits of computers.
"A computer, in the mind of today's adult, is a lot like `new math' in the mind of yesterday's adult," Guelker said. "I think the kids understand how important computers are in today's society; it's their parents who need to be enlightened. Which kid do you think has the advantage in today's schoolroom? The kid with the piece of paper and the pencil, or the kid with the calculator? "
I asked Guelker what other types of projects would he undertake if he had unlimited time and financial resources?
"I would think that with all the machines that people out there have that are just sitting around doing nothing," Guelker said, "there would be so much that could be done if people would only take the time."
Guelker challenged all the Atari users' groups with broken-down computers collecting dust in their basements to think about how they could benefit someone else.
"You have all these machines that are just sitting around the house. Why don't you get your groups together and fix them for donation to a worthwhile organization in your communities? If it's money your concerned about, you can declare it as an income- tax deduction."
He added that another good idea for a group interested in doing something for their community would to be put an ad in the paper asking for inoperable computers. The group could pick them up, fix them and donate them to needy children in the group's area.
"Most of the time the repairs can be made with simple component replacements," Guelker said. "And the knowledge and experience of most computer groups, not to mention the financial capabilities, would make the procedure rather painless."
As Atari computer enthusiasts, we all have what Tom Guelker called a common interest. I think we also have another similarity: We all know the value of time. The time these children had to work with Atari computers-time generously donated by the members of ACCESS-will never be forgotten.

Tom Arterburn

is 25 and lives in Belleville, Illinois. He dedicates this article to his parents, Tom Sr. and Rita Arterburn.