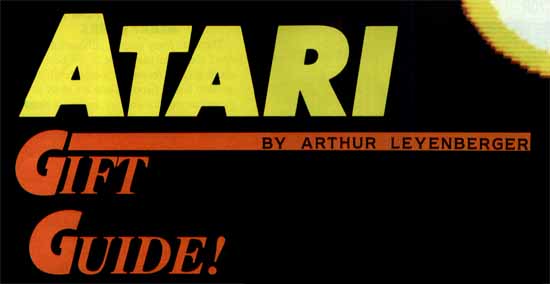 I
ts that time of year again. Atari 8-bit and ST users everywhere are starting to think about what program or peripheral will make the perfect gift, either for themselves or for someone else. There are literally thousands of currently available products that will make any Atari system complete. These products will help you get the most out of your Atari computer.
`The following, then, is ANALOG'S annual gift guide. Here you will find the best and most useful products for your computer. Some products are mentioned specifically by name, while other product categories are discussed generally. A list of the manufacturers and their addresses can be found at the end of the article.
Space does not permit me to mention every Atari-related product ever made. Nor can I even mention all of the good Atari products I use or know about. My apologies in advance if I leave out your favorite. However, I do know what the needs of the typical user are, since I too am a user. Further, having written about Atari computers for the past five years, I am well-informed about existing products.
Products are listed in order of occurrence: that is, the order in which they occurred to me. First, generic products and services that are useful to both 8-bit and ST users are described. Next, 8-bit software is mentioned, followed by ST software. I guarantee that you can use any of these products and still respect yourself in the morning.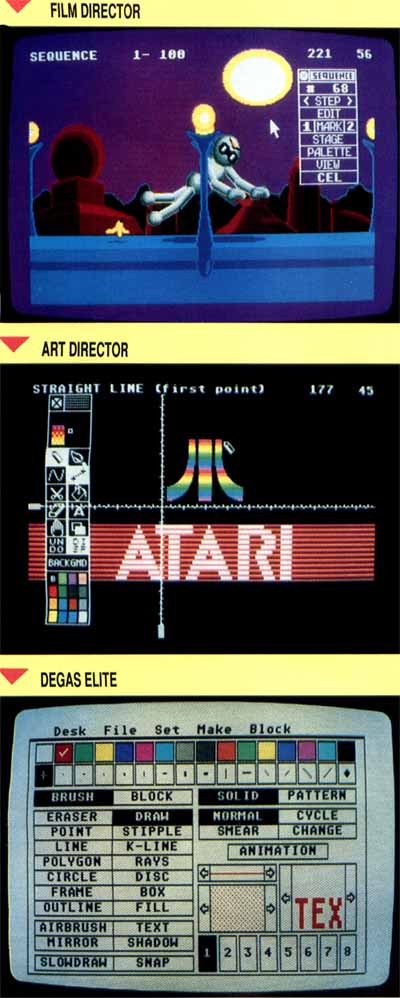 GENERIC GIFTS FOR ALL ATARI USERS
There are many generic gifts useful to an Atari computer user. One of the best you could give or receive is a membership to an Atari Users' Group. There are many fine groups around the country, and most clubs offer both 8-bit and ST special-interest groups. They also have knowledgeable people who are willing to help the other guy out.
Atari Users' Groups have monthly meetings, publish newsletters and often have libraries of public-domain software. Meetings typically include question-and-answer sessions, hardware and software demonstrations and even guest speakers from Atari and various software companies. Many also have electronic bulletin boards for their members' use.
Membership to an Atari Users' Group typically costs about $20 and provides one of the best sources of information about using your ST and 8-bit computer. To locate the nearest Atari Users' Group contact Atari Corporation directly. Whether you are just starting out with your new Atari computer or are a seasoned veteran, joining a local user group is worthwhile. The Washington Area Atari Computer Enthusiasts publishes one of the best user-group publications in the country. Their newsletter is called
Current Notes
and looks more like a magazine in size and content. Each issue features product reviews, special reports and tutorials. It has a glossy cover, is well-written and looks professional. A ten-issue subscription costs $24 and can be obtained by sending a check payable to: Editor,
Current Notes
, 122 N. Johnson Road, Sterling, VA 22170. Current Notes is an example of a highquality user-group publication.
Curtis Manufacturing has a number of products for users of any computer. Two products that I use are the Curtis Clip and the Computer Tool Kit. The Curtis Clip is a simple but useful plastic paper holder that attaches to either side of your monitor. The $6 product will hold a single sheet of paper at eye level for easy typing or reference. In addition, the clip swings out of the way when not in use.
The Curtis Tool Kit lists for $30 and contains just about all the tools you need for normal work on your computer. The kit includes flat-blade and Phillips screwdrivers, two sizes of nut drivers, a chip extractor, chip inserter, parts grabber and tweezers. All tools are demagnetized and housed in a zippered pouch. Although you may not need every tool, it's good to have them available and in one place.
Your Atari computer system represents a sizable investment in hardware. Unless you protect it with a surge protector, your equipment is susceptible to the power fluctuations of your local power company. Temporary power surges, spikes, too-high or too-low voltage can seriously damage your hardware. A number of devices are sold to offer protection from these kinds of catastrophes, but their quality ranges from poor to excellent.
Panamax offers a complete line of highquality products that work as advertised. Their products include multiple-outlet strips, power-line conditioners, telephoneline protectors and under-voltage protectors. Various features are offered on the different models, such as circuit breakers, alarms and on/off switches. Panamax's models range from $50 to $150.
One of the best ways to participate in the world of Atari computing is by using the DELPHI telecommunications service. DELPHI is an online information service which, among others things, hosts two Atari Forums: one for 8-bit users and one for ST users. Both forums are operated by the editors and staff of ANALOG.
A host of services and features is available on the DELPHI Atari Forums. Electronic mail can be sent and received by Atari 8-bit and ST users worldwide. Thousands of free programs can be downloaded from the database areas, including the programs presented each month in ANALOG. The conference feature allows you to meet electronically with other Atari users, and there are regular formal online conferences where you can discuss important Atari-related topics. Access charges average as low as ten cents per minute from most parts of the country, and there is no extra charge for high-speed access.
Other popular information services include CompuServe and GEnie. To use DELPHI, CompuServe, GEnie or any of the other information services, you will need a modem and a terminal program. An excellent choice for a modem is the Supra 2400. This is a fully Hayes-compatible 2400-baud modem that features auto-dial and auto-answer capabilities. Configurations are set via commands from the keyboard instead of by using DIP switches. The Supra 2400 has a list price of $140. You'll need an RS-232 interface, such as the Atari 850 or P: R: Connection if you have an 8-bit computer.
For the 8-bit Ataris, the terminal program included with
HomePak
is an excellent choice. Good public-domain terminal programs include
Express!
and
Amodem 7.2
. If you have an ST, I recommend
Interlink
by Intersect Software. This program offers an enhanced type-ahead buffer that allows you to create and edit text on the screen before it is sent. In addition, you can capture your entire online session (Autolog), with the capture being saved to disk automatically.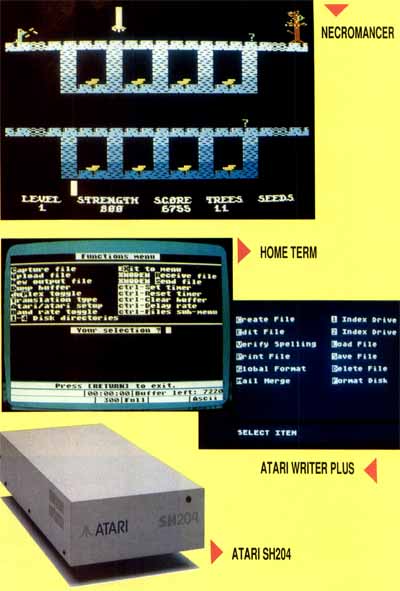 8-BIT SOFTWARE
It seems there are thousands of products made for the Atari 8-bit computers. Although the supply of new products has dwindled in recent years, there are many quality programs still available. Regardless of whether you have a 400/800, XL, XE or XE Game System, these programs allow you to use your computer for education, entertainment and productivity purposes. Here are a few suggestions for your consideration.
Word processing remains the foremost category of software for any computer, and there are several excellent choices for the Atari 8-bit computers. One of the best of the bunch is PaperClip, originally published by Batteries Included. Although Batteries Included is no longer in business, Electronic Arts has bought the rights to their products.
PaperClip
runs on all Atari 8-bit computers with at least 48K of memory. Since it was written entirely in machine language, it is fast. Two different tiles can be displayed on the screen at the same time, and blocks of text can be moved between the windows. In addition, each editing window can be set to a different size. Further, a full page (greater than 40 columns) can be previewed on the screen.
PaperClip
has many useful features that assist the user. The program has one-key macros that can be used to add a word or phrase with the touch of a single key, an auto-save feature that automatically saves the text file you are currently working on after a predefined number of keystrokes, and the ability to use DOS commands (directory listings, LOCK, UNLOCK, ERASE and RENAME) from within the word processor. Other features include extensive HELP, word-count display, UNDO command, global replace on chained files and printer-configuration files for most popular printers that are used with Atari computers. (You can also create your own configuration file.)
Electronic Arts distributes another original Batteries Included product that may be one of the best 8-bit software values around. Called
HomePak
, it is three programs in one: a word processor, terminal program and database.
HomeText
is an excellent entry-level word processor, but does not have the dozens of features contained in
PaperClip
.
HomeTerm
is one of the best terminal programs for the 8-bit computers. HomeFind is an electronic filing system.
Other word processors to be considered include
Atariwriter Plus
, The
Writer's Tool
and
Letter Perfect
.
Atariwriter Plus
is a descendant of the original, excellent
Atariwriter
word processor and maintains command similarity with its predecessor. It's a full-featured word processor that offers block functions, spelling correction (via a separate program), predefined and customizable printer drivers, text-formatting and word counter. In addition, a scrollable window is used to show text that is wider than 40 columns.
The Writer's Tool
was originally published by OSS but is now being distributed by ICD. It is a high-end word processor that has more features than any other similar 8-bit program. Although it takes a little time to master, it is especially useful for someone who does a lot of writing.
Letter Perfect
has been around a long time. Although LJK is no longer in business, the program can still be found at many dealers and represents a quality product with plenty of features. Any of these word processors will give you all the capability you could want in an 8-bit program.
The Print Shop
from Broderbund Software is a classic 8-bit program that lets you create letterheads, posters, banners and greeting cards. Once you finish your design (either from canned samples or customized), the output can be printed on a variety of dot-matrix printers. The program contains all of the elements (graphic symbols, fonts and forms) you need to produce any design and is easy to use. All you have to do is step through the various menus and choose whatever options you like. The package also includes a supply of colored paper and envelopes.
Broderbund also sells several companion products for the Print Shop called the
Graphics Library
. There are three volumes available, each containing additional clip art, fonts and designs.
Another excellent graphics program is
The Newsroom
by Springboard. It lets you create signs, brochures, newsletters and other simple publications like a desktop-publishing system. As such, you must create and assemble each of your pages with text, clip art and graphics. Over 600 graphics are included with the package, and more can be purchased separately.
The Newsroom
is not a desktop-publishing program per se, but can be used like one. It features automatic text flow around graphics, a logical menu-based interface and support for over 50 printers.
If you have used more than one of the 8-bit graphics programs, you have no doubt realized that many of them have their own file format. Files created by one program cannot generally be used by another. Now there is a way to convert graphics files from one format into another. The program is called
Graphics Transformer
by Alpha Systems. The $25 program can read
Koala Pad, Atari Light Pen
and
Touch Tablet, Print Shop, Paint, Graphics Master, Movie Maker, B/Graph, Super Sketch, MicroPainter, Microlllustrator
, text modes 0, 1 and 2, Computer Eyes and many more graphics format files. It can then convert these files into one of the following graphics files:
Typesetter, MicroPainter, Microlllustrator, Print Shop, Koala, Atari Touch Tablet
and
MagniPrint II+
.
There is another handy product from Alpha Systems called
MagniPrint II+
. This print-utility program lets you print all graphics modes files (including GTIA modes with 16 shades), enlarge or shrink pictures, print in normal or inverse and print selective areas of a picture. In addition, the program will print horizontally or vertically, read a variety of graphics files and allow you to change graphics modes for special effects.
An additional supplied program will print BASIC program listings complete with graphics and inverse characters.
Magniprint II+
supports Epson, Panasonic, C. Itoh, NEC, Gemini and Star printers and sells for $20.
\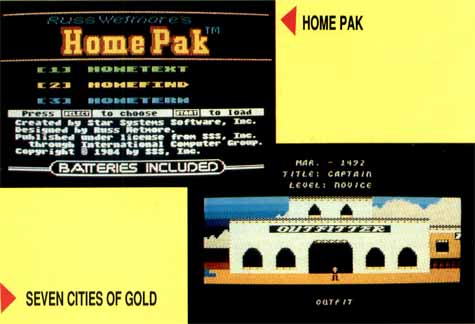 My list of recommended 8-bit games would probably fill this entire magazine. However, there are a number of outstanding titles of which any would make an Atari user happy. Many games are no longer sold by the original publisher either because they have gone out of business or have sold the rights to someone else. In addition, a number of games have been repackaged as "budget" titles on disk or as cartridges.
One of the most enduring and endearing 8-bit games is
Flight Simulator II
by subLOGIC. This excellent flight-simulation program is one of the most complete examples of the genre I have seen for any computer. The game consists of a single-engine plane simulation where you can either fly prescribed courses or practice the many aspects of flight. Excellent documentation accompanies the program and additional course disks can be purchased. Highly recommended.
My favorite text-adventure game is still
Planetfall
from Infocom. This game combines adventure, science fiction and humor into an engrossing example of what is called interactive fiction. For a child or someone new to the text-game genre, I would recommend
Seastalker
, also from Infocom. It is not as difficult or complex as
Planetfall
, but offers a good challenge and, like all Infocom games, has excellent documentation. Every Atari owner should own at least one Infocom text-adventure game. Prices range from $30 to $50.
Electronic Arts has lowered the price on many of their 8-bit games and now markets them under the "Classics" category. They now typically sell for under $15. One of the most creative and innovative games they ever produced was
Pinball Construction Set
. Written by Bill Budge, this game lets you create your own pinball games from a video parts box. You can then edit and save those games for future play.
Another classic from EA is
Seven Cities of Gold
. It is an excellent example of what an 8-bit game can be. You play the role of a 16th-century Spanish explorer, searching for new worlds, peoples and glory. Your own personality and belief system determine how you play the game, and the hidden feature of the game is self-awareness.
Atari has bought the rights to a couple of dozen 8-bit games and repackaged them in cartridges. These XE Game cartridges are marketed toward the XE Game System, but they will work in any 8-bit Atari computer. Some of the better titles include
Archon
(Electronic Arts),
Necromancer
(Synapse),
Mario Brothers
(Atari),
Choplifter
(Broderbund),
Ball Blazer
(Lucasfilm Games) and
Rescue on Fractalus
(Lucasfilm Games). The XE Game carts sell for $25 to $35.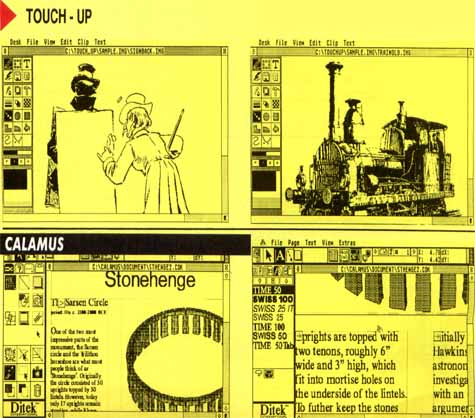 The P:R: Connection from ICD represents one of the best ways to satisfy your 8-bit interfacing needs. It allows you to connect a Centronics parallel printer and two RS-232 devices to your 8-bit computer. Both the parallel and serial ports are virtually identical to that of the standard Atari 850 interface. Since the P:R: Connection takes its minimal power needs from your computer, no separate power supply is necessary. The P:R: Connection sells for $70 and includes a free terminal program with the package. However, one of its main advantages is that it allows you to use industry-standard products, such as RS232 modems and Centronics printers, which can be used with other computers as well.
There are a number of 8-bit disk operating systems currently available. One of the most powerful is
SpartaDOS X
from ICD.
SpartaDOS X
comes in a special 64K cartridge and gives the Atari computer a full complement of DOS commands. The cartridge consumes none of the computer's memory and also has the provision to accept another cartridge.
Features of
SpartaDOS X
include the ability to create subdirectories, directly change the status any of a number of file attributes, display the contents of the file and set the time and date of the
R-Time 8
cartridge (if you have it) or the system clock. It also provides other file commands, such as COPY, FIND, ERASE, RENAME and DIR. Other features include a batch file and archive utility, the ability to switch to internal BASIC on an XL or XE computer and I/O redirection.
SpartaDOS X
sells for $80.
How would you like to have a graphics interface for your Atari 8-bit computer'? It is possible with
Diamond GOS
from Reeve Software.
Diamond GOS
(Graphics Operating System) is a "piggy-back" cartridge and disk software that provides a GEM-like Desktop on your 8-bit screen. The GOS allows you to have multiple windows open at once, where you can run programs and perform maintenance activities, such as copying and erasing files, formatting disks, viewing the contents of disks, etc. Also included with
Diamond GOS
is
Diamond Paint
and utility disk. The entire package sells for $80 and requires an ST mouse.
Educational computing is another category in which the Atari 8-bit excels. Although it has been available for several years, the
AtariLab
science kit allows you to perform experiments with the computer. The
Atarilab Starter Set
consists of a hardware interface device that plugs into a joystick port, a 16K ROM cartridge containing the temperature program, a temperature sensor, a standard thermometer and a 140-page manual. Users can make observations, take temperature measurements and then analyze the information.
The
AtariLab Light Module
kit is a companion product that requires the starter kit. It contains a cartridge, manual, light sensor, polarizes, filters, light stick and other items. The
Light Module
contains experiments to observe the light level of a candle, measuring response time of the light sensor, measuring how light passes through various materials and how polarizers work.
The documentation included with both modules stresses the scientific method and the importance of such things as calibration, repeated observation and proper data analysis techniques, such as graphing. The manuals also contain detailed information about the hardware interface itself and how it may be used with your own BASIC or Logo programs to measure real-world information or control outside devices, such as relays and switches. The
Atarilab Starter Set
with
Temperature Module
sells for about $50. The
Light Module
costs about $40.

ST SOFTWARE APPLICATIONS
The most frequently used application program on any computer is word processing, and there are several excellent wordprocessing programs for the ST, the most sophisticated of which is
WordPerfect
from WordPerfect Corp. This $250 program provides all of the normal functions one would expect, such as BLOCK/MOVE, SEARCH/REPLACE, headers/footers, column printing (two kinds), spelling checks, a thesaurus and much more. In addition to the normal functions, such advanced features as automatic backups, paragraph numbering, outlining, automatic hyphenation, multiple undo levels, multiple on-screen windows (up to four), footnoting/endnoting, indexing and table of contents generation are included.
WordPerfect
competes easily with major wordprocessing programs available for MS-DOS computers. Although the list price seems high,
WordPerfect ST
can typically be bought at a large discount.
If your word-processing needs are a little more modest, a couple of other programs are more than adequate.
WordWriter
from Timeworks is a GEM-based program that offers multiple windows, headers, footers and on-screen display of text styles.
Word Writer
also offers a thesaurus and spelling checker. The spelling checker provides multiple personal dictionaries and can check an entire document or individual words as you type.
WordWriter
sells for $80 and is easy to learn, thanks to the drop-down menus with equivalent key commands. In addition to being a stand-alone word processor,
WordWriter
interfaces with other Timeworks products, such as their database program (
Data Manager
) and spreadsheet (
Swiftcalc
). Text files from
1st Word
can be imported, and printer drivers are provided for a variety of printers.
Another excellent ST word processor is
Word Up
from Neocept.
Word Up
uses GDOS to produce high-quality output containing multiple fonts and different type sizes. Up to four windows can be open at once, each containing a different file. Other features include extensive block functions, headers, footers, endnotes, automatic file backup and the ability to incorporate graphics (
DEGAS
,
Neochrome
and .IMG files).
Although
Word Up
doesn't contain all of the features of WordPerfect, it will print the highest resolution your printer is capable of. Further, it is an easy program to use. At $80,
Word Up
should definitely be considered when you are looking for a word processor to call your own.
Another good game
from Electronic Arts is
Zany Golf. More like
an arcade game than
a golf simulation,
Zany Golf is like a
miniature golf course
from hell.
A number of desktop-publishing programs are available for the ST. By combining the three elements of word processing, page layout and drawing into one program, you can easily design, compose and paste up the contents of a printed page for forms, newsletters, charts, etc. You normally see exactly what you will get on the screen before it is printed. These programs range from simple-to-use entry-level products to more complicated programs intended for professional users.
One of the most popular desktoppublishing programs is
Desktop Publisher ST
by Timeworks. An easy-to-use program, it includes fully integrated word processing, page layout, typesetting and graphics functions all in one package. Some of the major features of the program include a full GEM interface with pull-down menus; icons; scroll bars and dialog boxes; flexible page layout to let you overlap, reposition and resize your text; columns and graphics; built-in fonts that range from seven to 72 points; and high-quality output to a dot-matrix or laser printer.
Text can be imported from
1st Word Plus
,
Word Writer ST
or any ASCII file so the program can work with existing word processors. Graphic files can be imported from
DEGAS
,
Neochrome
and
Easy Draw
file formats. Further, you can view, edit and layout pages in actual, double or half-size windows.
Desktop Publisher ST
sells for $130.
A professional-level desktop-publishing program is
Calamus
from ISD Marketing. The program provides text and document processing, design tools and page-layout capabilities that rival and often surpass those found in MS-DOS desktop-publishing programs. It uses a full GEM interface with mouse control and drop-down menus, or it can be used with keyboard commands. Vector fonts rather than Postscript-type fonts are used, and the program provides many features, such as outline fonts, printer preview, automatic kerning and stretching.
Other features of
Calamus
include automatic text flow from one page to another; automatic kerning in all fonts and sizes; word, character and line spacing adjustments; page and chapter numbering; text import and export; built-in macros and much more.
Calamus
can also create output in PDL, DDL, interpress and linotype formats. It sells for $300.
PageStream
from SoftLogik is another high-level desktop-publishing program. It incorporates typographical features, word processing, page layout and graphics. It also offers such capabilities as color-separation of pictures within documents and color printing. Word-processing features include spell checking, search and replace by attributes, automatic kerning, scalable fonts and text flow around irregularly shaped graphics. Text rotation can be performed in onedegree increments and text point sizes range from 1/50th to 1,310 points. PageStream sells for $200.
If you have any programs that use Atari's GDOS (graphics device output system), such as CAD or desktop-publishing programs, you know how slow the output can be. Further, you also know that GDOS is a memory hog, is temperamental (it must be unloaded when a non-GDOS program is run) and is unwilling to let you change fonts and drivers after it has loaded. Thankfully, CodeHead Software has created G+Plus as a replacement to the original GDOS.
G+Plus is an entirely distinct product that remedies the problems users have had with GDOS. Although it acts like GDOS (in terms of function), it offers better compatibility with non-GDOS programs, increases the speed of output and increases the speed of program execution (with those that need GDOS functions). In addition, it allows you to switch ASSIGN.SYS files from the desktop without having to reboot the computer. G+Plus sells for $35.
DEGAS Elite
is one of the best values in ST graphics software and has become a standard. The program allows you to paint in any of the three ST graphics modes and save your files to disk.
DEGAS Elite
contains a multitude of features, including: the use of eight work screens; the ability to cut and paste all or parts of these screens to each other or to disk; the ability to create and use clip art; block operations, such as stretch, rotate, horizontal or vertical skewing and distortion. Of course, the neat features involve color animation. Complete control of the direction, speed, colors and other aspects of the animation is at the user's command.
DEGAS Elite
retails for $50 and is distributed by Electronic Arts.
If you use any of the ST graphics programs, such as
DEGAS
or
Neochrome
, you may be interested in an animation program that makes your artwork come to life. Called
Make It Move
, this $50 program from Michtron is really more of an easyto-use slide-sequencing and -manipulation program than an animation program. Nonetheless,
Make It Move
is great for such tasks as creating video titles, making presentations and polishing your collection of ST graphic images. The program is mouse-driven, easy to use and doesn't require any special programming skills. Features include screen wipes in any of four directions, fades and quick cuts, each with user-specified durations. Further, objects may be zoomed, panned, hidden and moved.
Another graphics program that allows you to be creative is
PrintMaster Plus
from Unison World. With it, you can easily create calendars, fliers, stationery, banners, invitations, signs and greeting cards with many types of printers. The $40 program is menubased, allows you to preview your design before you print it and permits you to save your graphic to disk. In addition,
PrintMaster Plus
will work with add-on font and graphic disks.
Still another excellent graphics program is
Art and Film Director
by Epyx. This $80 package includes
Art Director
, a fullfeatured paint program that uses all the power of the Atari ST to create dazzling works of art. Menus and icons appear onscreen that allow you to choose among a variety of shapes, lines and colors from the palette, as well as perform such actions as stretch, bend, bulge, spin and rescale to enhance the pictures.
Film Director
then uses true cel animation to transform artwork into stunning graphic presentations. It's easy to automate many of the repetitious steps required by traditional types of animation. The program also includes a library of music and sound effects to create just the right ambiance.
Printers are capable of printing in resolutions of 100 dpi (9-pin printers) to 300 dpi (laser printers). However, graphics programs, such as
Neochrome
and
DEGAS Elite
, can only create graphics as good as the screen image (a 640x400 monochrome screen resolution translates to about 80 dpi when printed). With
Touch Up
from Migraph, you can edit and print these graphics images with as high a resolution as the printer can handle.
One of the main features of
Touch Up
is the ability to convert 16-color lowresolution pictures into image files (color mapping). Six different ways to do this are provided and each produces better results at the expense of requiring more time to accomplish. For example, this procedure allows you to first convert a low-resolution graphics image created in
DEGAS Elite
into an image file and then import that image file into a desktop-publishing program. Graphics file conversion is also available to and from
DEGAS
,
DEGAS Elite
,
Neochrome
,
MacPaint
, 7117, PCX,.IMG and .GEM formats.
The $180 Touch Up program also contains full-featured drawing capabilities for bit-mapped images. A variety of drawing tools, such as geometric shapes, lasso, fill patterns, line sizes, ten fonts (with attributes), etc., is provided to create and edit images. Advanced functions, such as Spines and Bezier curves, are also included. All in all,
Touch Up
is a sophisticated yet easy-to-use graphics utility program.
Utility programs are the glue that holds various ST application programs together. They also provide a means to make your computer more productive. Whether you need to convert files from one format into another, perform routine maintenance on your system or just want to be able to use all of the capabilities of your ST, utility programs are a necessary component of your software library.
MultiDesk
allows you to use any desktop accessory program on your ST at any time without rebooting the computer. In addition, you are not limited to the six desktop accessories (.ACC files) loaded at once when the computer boots up. MULTIDESK.ACC is loaded as one of the six possible accessories when the ST boots up in the usual manner. However, from within
MultiDesk
, you can access up to 32 additional accessories.
MultiDesk
works as either a desktop accessory or as a regular GEM program. When run as a program, it gives you access to any desktop accessory whether it has already been loaded or not.
MultiDesk
sells for $32 and is an excellent utility.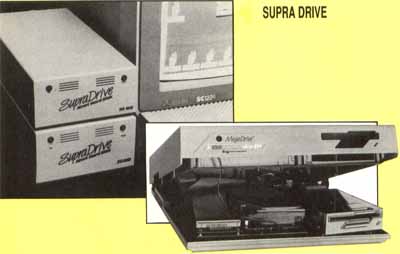 If you have a hard disk, the $60 Michtron
Hard Drive Turbo Kit
will be an essential utility program. The
Turbo Kit
contains three hard-disk products (upgraded versions of previously released separate programs) in one: backup, optimize and disk cache. Each of the programs has a variety of features and options to simplify and enhance its use. The backup utility allows you to perform either a file-by-file or image (sectorby-sector) backup of the hard disk. You can produce a full backup of the entire hard disk or an incremental backup of only those files that are new or that have changed since a specific date. A restore program allows you to copy the files from the floppies back onto the hard disk in the event of a hard-disk failure.
Tuneup
is the optimize program, which improves the file-access time of the hard disk by unfragmenting (rewriting all of the data to contiguous sectors) files. Performance is also increased by moving all of the hard disk's free space to one contiguous section. The hard disk can be optimized either for read access or read/write access. The third part of the
Hard Drive Turbo Kit
is
M-Cache
: a disk-cache utility. A disk cache is another way to improve the performance of a hard disk by holding recently accessed disk sectors in memory, much like a RAM disk.
NeoDesk
is an alternative desktop for the ST that both replaces and extends its functions. Although it looks similar to the normal ST Desktop, there are a number of significant and subtle differences that vastly improve the use of the desktop. Some of the features of
NeoDesk
include arranging file icons to fit the size of the window, displaying the total size of a selected group of files, being able to format disks in different formats, displaying program files as icons on the desktop in addition to files within a window and not changing the date/time stamp when copying a file.
NeoDesk
allows you to exit the program and return to the normal Desktop at any time, regaining all of the memory that the program used. In addition, the
NeoDesk
desktop can be saved to disk, complete with program icons, as well as auto-executed when you boot the ST.
NeoDesk
costs $30 and is an example of what the ST Desktop should be.
Tempus
is a GEM-based text editor that was originally published by Eidersoft. As a text editor rather than a true word processor, it includes medium- and highresolution support, mouse or keyboard operation, auto indentation for structured programming, online help menus and automatic line-number generation. The most outstanding feature of this product is its speed, which is blindingly fast. Compared to a word processor,
Tempus
is four to ten times faster in loading files, scrolling the document from top to bottom and searching and replacing on a single character. Compared to another text editor, such as
MicroEMAX
,
Tempus
is from one-and-ahalf to five times faster for the same operations.
Now MichTron has bought the rights to the program and has released
Tempus II
. The new version increases the speed of the original and adds new commands and keyboard shortcuts. Features of
Tempus II
include the ability to edit up to four files simultaneously, optional word wrap with justification, search-and-replace options with wild cards, an assortment of block commands, 20 user-definable function-key macros, a sort utility, automatic file save, and cross-reference generation.
Tempus II
sells for $80.
Still one of the best ST accessory products is
DeskCart!
from Quantum Microsystems Inc. (QMI). Deskcart! contains a battery-backed-up real-time clock and a plethora of desktop accessories on one cartridge. Only 75K of precious RAM is consumed by the accessory programs.
The 14 accessories include a calendar good to the year 2040; an appointment book with alarm; a notebook, which is really a mini-word processor that allows you to create, edit and save multiple 12-page notebook files; a card file that allows nine lines of data; a good calculator; a typewriter that allows you to use the ST to address envelopes or print other short, quick pieces; an address book; a VT-52 terminal emulator; keyboard macros; a RAM disk of any size on any drive; disk utility functions; a print spooler; a control panel similar in function to the ST's control panel; and a screen dump and memory test.
DeskCart!
retails for $100.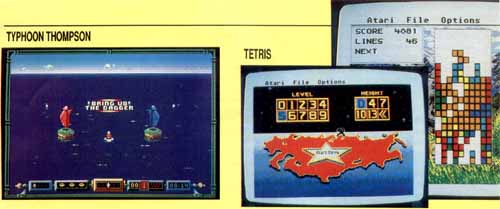 Ah, games. The ST is unquestionably a premier game-playing computer, and the number of excellent games now available attest to this fact. I might as well first describe one of my favorite games of all time:
Tetris
.
Tetris
is a puzzle game with a simple concept. You rotate and position into a solid row at the bottom of the screen variousshaped blocks that fall from the top. Points are awarded as each solid row is formed then disappears. As gaps are left within a row, the rows build up line by line until they reach the top of the screen. When there is no more room for blocks to fall, the game is over. You can either let the pieces fall at their own speed or drop them yourself for more points.
Tetris
is a Soviet-designed game and offers nine levels of addictive play. At each higher level, the pieces fall at an increasingly faster rate and there is a different background screen. Also, you can begin the game with varying numbers of pieces already on the screen for an even greater challenge. Other features include turning the sound effects on or off, displaying statistics on your progress and previewing the next piece that will fall.
Tetris
sells for $40. If you are going to buy one ST game this year,
Tetris
should be it.
Another excellent ST game is
Arkanoid
from Taito Software. Similar in many ways to
Breakout
,
Arkanoid
consists of several rows of "bricks" of different designs, a ball and a sliding paddle. However, unlike
Breakout
, when certain bricks are hit, they release capsules with special powers. The capsules must be captured with your paddle to gain their special properties. Capsules release additional balls, allow your paddle to capture the ball, award extra lives, double the size of your paddle, temporarily slow the ball down, advance you to the next screen and give you a laser weapon to shoot the bricks.
Arkanoid
has 33 screens, each more difficult than the last, and sells for $40.
Another of my favorite games is
Typhoon Thompson
from Broderbund Software. Written by Dan Gorlin of
Choplifter
fame,
Typhoon Thompson
offers excellent animation, 3-D graphics and challenging game play. In the game, you control a Jet-Sled (a water craft) around the unchartered ocean planet Aguar. Your mission is to rescue a missing sea-child from the Sea Sprites, which live in these tropical waters. To do so, you must overcome the many defenses of the Sea Sprites. Further, you must capture all of the Sea Sprites from all seven islands within a village in order to retrieve one of the four artifacts from the Spirit Guardians. Each succeeding mission is more difficult until you are destroyed or save the sea-child. Your final score is based upon the number of tasks you complete, the number of islands won, the number of Sprites captured and the amount of time it took to complete them.
What makes
Typhoon Thompson
so good is the quality of the graphics and the attention to detail. The Jet-Sled has a very fluid motion to it, and control of it feels natural. You can see the expressions of the captured Sprites, and the game has an overall dreamy look.
Typhoon Thompson
sells for $35.
Tower Toppler
from Epyx is an interesting variation of the
Q-bert-
style "hopping game." The goal of the game is basically to avoid the monsters and get to the top. But like many games with a simple concept, completing the game is more difficult than it looks. In
Tower Toppler
, eight giant towers rise from the depths of a toxic ocean. The goal is to destroy each tower after you have reached the top. Each tower has obstacles, such as deadly rolling boulders, disintegrating ledges, indestructible mutant molecules, flying phantoms and flashing blockades. You can hop over some of the obstacles or ride emergency elevator lifts, and a snowball gun can be used to freeze or destroy the enemies. As you climb the towers, they rotate with you so your vantage point changes.
If you fail to reach the top of a tower in the given time limit, the game ends. Extra points can be earned by catching fish between the completion of each of the towers.
Tower Toppler
sells for $40 and allows one or two players to play. In addition, there are two missions to choose from.
Lords of Conquest
by Electronic Arts sells for $20 and can be compared to the board game Risk. It's a classic strategy game in which the action takes place on a world map. Up to four players can play at once and each opponent chooses home territory, then tries to protect his holdings while conquering territories belonging to other players. Games can take anywhere from a half hour to several hours to play.
Another good game from Electronic Arts is
Zany Golf
. More like an arcade game than a golf simulation,
Zany Golf
is like a miniature golf course from hell. Like traditional miniature golf, there are nine holes, each presenting a particular obstacle to overcome. However, the obstacles themselves make the game so challenging (and interesting): Flying carpets, bouncing hamburgers, pinball machines and "rubber birdie bogey bumpers" are not found on your typical golf course.
Each hole has a par value and allows a certain number of strokes. Once you make the putt, any remaining strokes are carried over to the next hole. When all of your remaining strokes are depleted, the game is over. Of course, each hole is increasingly more difficult and the final hole, "Dr. Frankenstein's Private Country Club," is exceedingly challenging.
Zany Golf
sells for $40 and offers top-notch graphics and music.
Practical Solutions offers several products that, as their company name implies, solve minor problems encountered with using an ST and peripherals. If you happen to have both a monochrome and a color monitor for your ST, attaching and re-attaching the mo nitors can be a pain. Monitor Master allows you to simultaneously connect monochrome, RGB and composite monitors to your ST (composite video available only on STs with internal composite video). Then, by simply pressing a button you can switch from one to the other. In addition, a separate RCA audio-out jack is provided on the switch box. Monitor Master is a passive device and sells for $55.
Another useful product from Practical Solutions is Mouse Master. If you have a 1040ST, you know that it is difficult to attach a mouse or joystick since the ports are located underneath the computer. Mouse Master plugs into the joystick ports beneath the computer and allows you to easily hook up the mouse or joysticks. In addition, both a mouse and joystick can be permanently attached and switched from one to another. Mouse Master requires no separate power supply and sells for $40.
Neither the 1040ST nor the Mega computer contains an internal RF modulator. Therefore, these machines do not provide composite video output. If you want to record your graphics designs on a VCR or play games on a big-screen TV, you're out of luck. Unless you have VideoKey.
VideoKey is a small box from Practical Solutions that converts the RGB signals from the ST into color-composite video that is superior to even that available on the STs that do have an RF output. VideoKey is designed primarily for low-resolution color, used by the majority of games and animation. A separate external power supply operates the unit, but since it is invisible to your system, you need not unplug your existing monochrome or color monitor. VideoKey sells for $100. Another product from Practical Solutions is the Tweety Board. The ST computer actually has three separate audio channels, which are accessed by the Tweety Board. It provides true stereo output from the audio generated by the ST. Instead of the tinny sounding audio you normally hear through your monitor speaker, the full audio capability of the ST can be heard through your stereo or sound system. The Tweety Board is compatible with all ST software and installs inside the ST without any soldering. It sells for $60.
If you have been searching for the ultimate joystick, your quest might be over. I know of two joysticks that offer state-of-theart performance at a reasonable price. Wico's Ergostick is one. It is a short "throw" stick with a steel shaft that has a slightly sticky soft covering that is easy to grip. Quality microswitches are used for durability and to provide better feedback to the user. The Ergostick sells for $25.
Another excellent stick is the Epyx 500XJ. This too is a small stick, but the base conforms to the shape of your hand and is less fatiguing. There is a groove for the thumb on the base, and the trigger button is strategically located under the tip of the index finger. This stick is made to be held with the left hand while the right hand's fingers perform the action. The Epyx 500XJ has a sturdy design and feels solid to the grip. It sells for $25.
FOR THE ST USER WHO HAS EVERYTHING
Several years ago, David Small designed the Magic Sac cartridge that gave Macintosh compatibility to the Atari ST computer. In his latest effort, and from his own new company, Gadgets By Small, he has designed a new, improved product called the Spectre 128. It is a Macintosh Plus emulator cartridge and software that has a faster screen redraw and file-access time compared to the Magic Sac.
The Spectre 128 can use either Mac 128K or 64K ROMs (that you must buy elsewhere). Although it does not read Mac disks directly (a forthcoming product called GCR will do that), the $180 product runs dozens of Mac software products (such as
HyperCard, Adobe Illustrator
and
PageMaker
) at up to 20 percent faster, and it can use the larger ST monochrome monitor.
Digital Vision was the first to develop and market a video digitizer for the 8-bit Ataris. Their video digitizer for the ST is called Computereyes. It includes both hardware and software, and it supports all of the graphic capabilities of the ST. The hardware interfaces easily to any source of standard NTSC color or black-and-white composite video. These sources include video cameras, VCRs, video laser discs and other computers. All capture and display functions are mouse-controlled under GEM, and images may be captured in either monochrome or full color.
Automatic calibration of brightness, contrast and color balance is performed by the Computereyes software. Once the image has been captured, the brightness, color content and contrast can be easily adjusted to suit your needs. Further, the images saved by Computereyes are compatible with
Neochrome, DEGAS, DEGAS Elite
and other graphics programs. Computereyes ST retails for $250.
One of the major upgrades for the ST is a hard disk. There are a number of vendors, drive sizes and options to choose from. All hard-disk drives mentioned here are reliable, differing only in their price, physical dimensions and length of connecting cable.
Atari offers two hard drives that differ only in price and the size of the case. The SH204 is a shoe box-size model that has a 19-inch cable and 20 megabytes of storage. It sells for $700. The Atari MegaFile 20 sells for $900 and can serve as a monitor stand or fit under a Mega ST. Both drives come with boot, format and autoboot programs. In addition, a disk-cache program is also provided.
Supra drives range in size from 20 megabytes to 60 megabytes. They are about the size of a shoe box and feature a 19-inch cable that connects to the DMA port on the ST. In addition, all Supra drives come with a boot program, a utility for mapping bad sectors and a formatting program. The drives are available from either the factory or retailers. The Supra 20-, 30-, 45- and 60-megabyte drives sell for $700, $795, $995 and $1,295, respectively.
ICD also makes hard disks for the ST. Designed to fit under your monitor, the ICD FA20ST provides 20 megabytes of storage and features a 31-inch cable. Innovative features, like a built-in clock with battery backup, adjustable legs for positioning the monitor and providing cable clearance, and the ability to daisy-chain additional DMA devices are also included. Software consists of boot, format, autoboot and utility programs. The FA20ST retails for $700. Other ICD hard drives are available: 30-megabyte, $950; 50-megabyte, $1,100.
That concludes this year's gift guide. I hope you'll manage to find that perfect gift for your favorite ST owner. Of course, this article makes a great "want" list too. Just circle items you'd like to find under the Christmas tree and leave the magazine open in a strategic place. You might just get lucky.
Companies Mentioned
Alpha Systems
4435 Maplepark Rd.
Stow, OH 44224
(216) 374-7469

Atari Corp.
1196 Borregas Ave.
Sunnyvale, CA 94088
(408) 745-2000

Broderbund Software
17 Paul Drive
San Rafael, CA 94903-2101
(800) 527-6263

CodeHead Software
PO. Box 4336
North Hollywood, CA 91607
(213) 386-5735

Curtis Manufacturing Company, Inc.
30 Fitzgerald Drive
Jaffrey, NH 03452
(603) 532-4123

CompuServe Communications
5000 Arlington Center Blvd.
Columbus, OH 43220
(614) 457-0802

DELPHI
General Videotex Corp.
3 Blackstone Street
Cambridge, MA 02139
(800) 544-4005
(617) 491-3393 (in MA)

Digital Vision
14 Oak St., Suite 2
Needham, MA 02192

Electronic Arts
1820 Gateway Drive
San Mateo, CA 94404
(800) 245-4525

Epyx, Inc.
600 Galveston Drive
Redwood City, CA 94063
(415) 366-0606

Gadgets By Small
40 W. Littleton Blvd. #210-211
Littleton, CO 80120
(303) 791-6098

Gribnif Software
P.O. Box 350
Hadley, MA 01035
(413) 584-7887

ICD, Inc.
1220 Rock Street
Rockford, IL 61101-1437
(815) 968-2228

Intersect Software
2828 Clark Road, Suite 10
Sarasota, FL 34231
(813) 923-8774

ISD Marketing, Inc.
2651 John Street, Unit #3
Markham, Ontario
Canada L3R 2W5
(416) 479-1880

Microprose
120 Lakefront Drive
Hunt Valley, MD 21030
(301) 667-1151

MichTron
576 S. Telegraph
Pontiac, MI 48053
(313) 334-5700
Migraph, Inc.
200 S. 333 St., #220
Federal Way, WA 98003
(206) 838-4677

Mindscape
3444 Dundee Rd.
Northbrook, IL 60062
(312) 4807667

Neocept
547 Constitution Ave., Unit A
Camarillo, CA 93010
(805) 482-4446

Panamax
150 Mitchell Blvd.
San Rafael, CA 94903
(800) 472-5555

Practical Solutions, Inc.
1930 E. Grant Rd.
Tuscon, AZ 85719
(602) 884-9612

Quantum Microsystems, Inc.
P.O. Box 179
Liverpool, NY 13088
(315) 4517747

Reeve Software
29W 150 Old Farm Lane
Warrenville, IL 60555
(312) 393-2317

Softlogik Corp.
11131F South Towne Square
St. Louis, MO 63123
(314) 894-8608

Spectrum Holobyte
2061 Challenger Drive
Alameda, CA 94501
(415) 522-3584

Springboard Software
7808 Creedridge Circle
Minneapolis, MN 55435
(612) 944-3915

subLOGIC
713 Edgebrook Drive
Champaign, IL 61820
(217) 359-8482

Supra Corporation
1133 Commercial Way
Albany, OR 97321
(503) 967-9075

Taito Software, Inc.
11715 North Creek Parkway South, Suite 110
Bothell, WA 98011
(604) 984-3040

Timeworks
444 Lake Cook Rd.
Deerfield, IL 60015
(312) 948-9200

Unison World
2150 Shattuck Ave., Suite 902
Berkeley, CA 94704
(415) 848-6666

Wico Corporation
6400 West Gross Point Rd.
Niles, IL 60648
(312) 647-7500

WordPerfect Corp.
288 West Center St.
Orem, UT 84057
(801) 225-5000

Xlent Software
P.O. Box 5228
Springfield, VA 22150
(703) 644-8881