What's New in
Consumer Electronics

by Arthur Leyenberger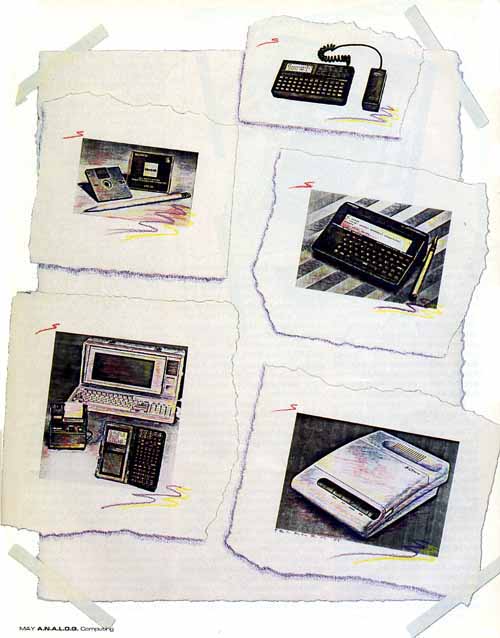 Ever since I can remember, I've loved neat things." To a young boy 30 years ago, a neat thing was a two-foot-tall spaceship by Ideal that had blinking lights, sound effects and a motorized block and tackle/arm for loading two-inch payloads. A neat thing was also an erector set that combined creative play with practical lessons about mechanical engineering.
Still another neat thing was slot-car racing. Although it was hot for only a couple of years, it provided hours and hours of enjoyment while honing one's reaction times (racing), patience (model building) and mechanical ability (working with motors, gears, etc.). In my case, it also gave me an outlet for my entrepreneurial skills since I would "soup-up" other kids' cars for a small price.
I guess some things never change. I still love neat things, but the category has been expanded to include computers, gadgets, electronics, audio, video and on and on. If I had to sum it up, I'd have to admit that I am in love with technology. It's safe to assume that the readers of ANALOG also share this feeling to one degree or another.
Over the last ten years, the business community has certainly embraced computers even from the early days of the Apple II and Visicalc. Not so the home computer market. Although computers are increasingly finding their way into homes each year, people who own computers at home are a minority. Further, people who actively use their home computers are an even smaller minority.
Nonetheless, the very fact that you own an Atari home computer, are an active user and are reading this magazine right now, means that you understand, appreciate and enjoy technology and what it has brought forth in the way of consumer electronics. That is why you can appreciate the semi-annual Consumer Electronics Show.
Consumer electronics is one of the largest industries in the United States, and the Winter Consumer Electronics Show (CES) in Las Vegas is the place to see the new products and technologies. Over 770,000 square feet (that's about 17 football fields) of exhibit space, spread across a half dozen locations, is available for the some 90,000 attendees to view. The 1,400 or so exhibitors always hope that their products will get the major attention during the four-day show.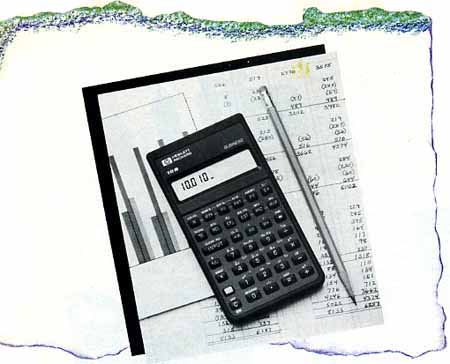 Every year CES attendees look for that one product or technology that will have consumers lining up to buy. After all, CES is a trade show where retailers, buyers and distributors want to know what products will make them the most money. In past years such products as video recorders, home computers, video games, pocket TVs, Compact Discs and many others have been introduced and been tremendously successful with consumers. This year was no different as several new product categories were seen.
Personal Electronic Products

This is a relatively new category of consumer products that includes everything from language translators to pocket spelling checkers. One of the most useful products I saw in this category was Brother's
P-Touch Electronic Lettering System
. Designed to be a hand-held alternative to those expensive and cumbersome professional lettering systems, the
P-Touch
produces lettering in a variety of colors, styles and sizes for virtually any application.
The lightweight self-contained unit uses a thermal printing device for best character resolution and uses an LCD screen to display the label. A large rotating dial is used to enter each letter or character for the label, and once completed the 45-character-maximum label can be edited before it is printed. The existing label is not lost when the unit is turned off, and interchangeable ribbon/tape cartridges are used for different colored labels.
The Brother
P-Touch
is an easy-to-use labeling device that produces quality labels in five sizes and four styles. The labels are produced on self-adhesive strips that are easy to apply. It lists for $150, but I bought mine at a discount house for $99. Tape cartridges sell for about $10 apiece.
Another electronic lettering system, called the
HW-1 Digital Writer
, was shown by Casio, Inc. This product is somewhat different than the
P-Touch
in that it will print on any paper rather than just on strips of self-adhesive labels.
After you type copy into the
HW-1
, you slide the hand-held printer wand (you hold it like a pen) from left to right on paper to print. The unit beeps when printing is complete. It holds up to 2,066 characters and runs on rechargeable batteries-a full charge takes about eight hours.
The battery charger and black ink ribbon cassettes come as standard accessories. Optional accessories include blue, red, gold and silver ink ribbons, and a RAM card that will hold up to 5,300 characters. The
HW-1
offers a choice of eight different type styles and special effects and has a built-in phone directory function that lets you store up to 272 names and phone numbers.
The Casio
HW-1
will print on any flat surface and also serves as a full-featured 10-digit calculator. It retails for $300.
Sharp was showing the
Wizard
, a pocket electronic organizer. This $300 device contains all of the essential business tools such as appointment calendar, phone directory, notepad, calculator and world clock in one handy gadget. The sleek 4-inch by 6-inch unit weighs only eight ounces and has a built-in PC interface to bi-directional load schedules, phone listings and documents from a personal computer.
The
Wizard
has been available for about six months and has been a hot seller. Using a vertical format and an 8-line by 16-character LCD display, the
Wizard
is completely menu driven so that it is easy to use. It contains a 32K memory, separate alpha and numeric keys for data entry, variable screen-character size and a 200-year calendar.
One of the unique features of the
Wizard
is its ability to use plug-in IC software cards that, when slid into position, also double as a touch-sensitive panel for selecting the card's functions. Currently, three cards are available: a dictionary/thesaurus, a time-management system and an eight-language translator. Each of the cards is priced under $130. The
Wizard
can also be connected to peripherals such as printers, a cassette recorder or even another Wizard.
Another personal electronic product is the
Hexaglot
language translator from Polyglot. This smartly styled product contains translations for six different languages: English, Spanish, German, Italian, French and Portuguese. Simple to use, all you do is type in the word you want translated, in any language, and press the key corresponding to the language you want the word translated to.
The
Hexaglot
also functions as several other devices as well. It contains a fourfunction calculator, a currency-exchange function and a multi-lingual dictionary for spell checking. In addition to translating individual words from one language into any of the five other languages, the
Hexaglot
translates several words or a phrase at once, as long as the total number of characters is less than 128.
The
Hexaglot
weighs a mere 2.5 ounces, measures approximately 5.5 by 3 by 0.75 inches and has a two-line by 16-character LCD screen. The unit has a 60-key membrane keyboard, operates on batteries and has an automatic power-off feature. The
Hexaglot
retails for $186.
Franklin Computer, makers of the
Language Master
series of hand-held spelling checkers, introduced the first speaking dictionary. The
Language Master 4000
features an electronic dictionary, thesaurus and phonetic spelling corrector that pronounces more than 83,000 words. Not only does it provide concise dictionary definitions but it also pronounces them correctly.
Useful for people who have difficulty pronouncing words, the
LM-4000
will also be useful for people learning English as a second language. Simply type in a word the way it sounds and within seconds the LM-4000 will display its definition, parts of speech and hyphenation points on a LCD screen. Press the SAY key and the unit's electronic voice pronounces the word.
In addition to the above, the
LM-4000
has a built-in vocabulary-building tutorial that features a list of 3,500 words frequently found on such tests as the SAT, GRE and GMAT. Students can view randomly selected words and at the touch of a key display their meanings. The new speaking dictionary includes a built-in speaker, volume control and headphone jack. Retail price is set at $400, and the
LM-4000
will be available this summer.
Cobra Electronics was showing a unique answering machine. The
Cobra Timekeeper
is the first answering machine that offers a digital time stamp on each incoming message so that you know when and at what time the message was received. The $120
Cobra Timekeeper
is a beeperless machine with multifunction remote control. The system is based on a single standard-sized cassette.
As each message is received, the date and time are recorded. When you play your messages back, a synthesized voice announces the time stamp after each message. Sounds like a useful product for someone who travels a lot and needs to know when their messages came in.
Audio

Here's a twist-or rather a marriage of new and old technologies. Finial Technology, Inc. has introduced an optical turntable that can play regular LP vinyl disks using a laser. Really, no kidding. Called the
LT-1 Laser Turntable
, this product really does play LPs without anything touching the grooves and causing further wear on the record.
Not only is wear on the record eliminated but the audio quality is improved as well. With no tone arm and cartridge, there is no drag to cause any speed irregularities that can be heard as pitch changes. Further, without a tone arm, no motor noise is transmitted from the platter, resulting in no rumble. The whole thing makes more sense than it would first seem.
The
LT-1
consists of a lightweight turntable system, tracking mechanism and computer-controlled laser optical assembly. Unlike conventional turntables, the platter does not need to be heavy in order to overcome the resistance of the stylus dragging across the record surface. Speed accuracy is maintained by a closed-loop computer circuit that is updated 60 times per second. There is a variable speed control that the user can set between 30 and 50 rpm.
The tracking mechanism is also microcomputer controlled and ensures that even moderately warped disks can be properly played. Furthermore, the system memorizes boundaries and times each cut. It also maintains a constant gap between the optics and the record surface with an accuracy equal to 1/30th the thickness of a human hair.
The record grooves are "read" by the laser assembly, and since there is no physical contact, the grooves are scanned more than 40 times the amount of a conventional stylus. As a result, more musical information is extracted from the grooves with an improvement in audio quality. In addition, the
LT-1
has a noise blanking circuit to reduce ticks and pops and an in-drawer cleaning system that keeps the optical assembly clean.
The front loading
Laser Turntable
is fully programmable, and a display shows elapsed and remaining time for all cuts on the side. The
LT-1
is expected to be available by summer 1989.
Other audio products included a rash of portable cassette tape players, some new portable CD players and all shapes, sizes and colors of boom boxes, many of which appeared to be created at the art deco school of design. Sony was showing several
Disc-Jockey
-brand carousel CD-changer models for the home as well as the car. Most of the home units feature Sony's five-disc revolving carousel tray which lets you mix both 5-inch and 3-inch CDs. A pair of models feature a unique 10-disc magazine that lets you swap the 10-disc magazine between the home and car player.
Quite a few companies were showing "combi" players, units capable of playing CD, CD-3, CD video and laser Disks. Since CD video discs cannot be played on a standard CD player, a special player is required (the "combi" player) to play them. As you may know, CD video or CDV is an optical playback medium that looks similar to a compact disc except that the 5-inch CD video is gold colored to distinguish it from a CD. It offers 20 minutes of digital music and five minutes of regular, full-motion video on one side of a disc.
I guess the predictions that CDV would be a 1989 phenomenon is coming true. Whether it will be fully embraced by the electronics consumer will have to wait to be seen.
Video

From the halls of congress to retailers showrooms, the future of television is being hotly debated by industry experts, government officials, consumers and the press. The words heard everywhere are HDTV,which stands for high-definition television. Those same words were heard through the convention hall at CES, especially at the booths of the major television manufacturers.
HDTV technology, at least in the current version that will be made available in Japan by the end of the year, is incompatible with the existing NTSC broadcast standard. In fact, much of the debate and current research about HDTV centers on how the required second augmentation channel necessary for the razor-sharp wide screen TV image will be delivered to the consumer. The choices include normal broadcast, satellite, cable or some new fiber optic network. The telephone companies are especially interested in the latter possibility for obvious reasons.
Quality is one area where compromise may have to occur. The FCC seems to be heading in the direction of wanting any HDTV format in the U.S. to be compatible with the existing NTSC broadcast standard. However, doing this may jeopardize the quality of the image. Viewing true HDTV, like the MUSE system about to be introduced in Japan, is an amazing experience. The picture quality is crystal clear and almost appears threedimensional.
In addition to wanting NTSC compatibility, the FCC and Congress want the highdefinition system to be American developed and sets manufactured in the U.S. A number of companies are proposing systems that are compatible, but the maximum resolution of these images are not as good as they could be. Regardless of the final system chosen, industry experts predict that HDTV will arrive in the U.S. in the early 1990s.
Equally important as the home entertainment aspect of HDTV is the potential use of it for a variety of other uses. From theatrical distribution of feature films to high-speed, high-quality color printing to video teleconferencing, HDTV promises to be a technology that will serve many purposes. Professional users will not settle for less than the highest quality picture possible. For example, HDTV could be used for telesurgery, but I know that I would not want an operation where the doctor had to rely on anything less than the sharpest quality image.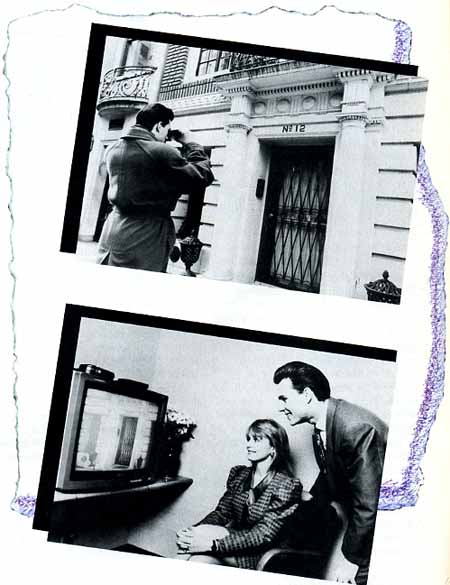 Anyone who has seen an HDTV display can't help but be excited about eventually having this technology in their home. Once the political and economic issues are sorted out, I too hope we end up with the best quality system possible.
Another interesting, although not as practical, new product was shown by Hitachi. It is a 5-inch color LCD TV for cars. The tiny TV displays 115,000 pixels, delivers 480 lines of horizontal resolution and 240 lines of vertical resolution. It looks surprisingly good. The diminutive screen measures only 6.5 inches wide by 5.7 inches high by 1.5 inches deep.
The TV's tuner uses a dual antenna system with an arrangement of four separate antenna elements that assures quality reception, even in a moving vehicle. An advanced system of antenna switching lets the TV receive broadcasts from the antenna with the strongest signal up to 60 times per second.
Hitachi's "auto video" was designed primarily with the future of on-board navigation systems in mind, but it also functions as a normal TV. The small set includes AN inputs for connecting external video sources such as VCRs or video games. The LCD color TV also has an infrared remote control and an on-screen display.
Although the color LCD TV was designed for the Japanese market and Hitachi has no current plans for U.S. introduction, it sounds like a great product to mount in the back seat to keep the little tykes occupied on those long trips.
Toshiba announced and showed a new 4-inch color LCD television called the LCD-048. The high-resolution screen incorporates an active filter matrix with a thin-film transistor color filter that provides a bright, clear image. Resolution is 220 vertical by 480 horizontal lines.
Other features of the LCD-048 include audio/video input and output terminals, switchable internal backlight for improved viewing under low-light conditions, earphone jack, telescoping antenna and a provision for an external antenna, as well as electronic tuning and on-screen channel and volume settings. Pricing has not yet been established.
Still Video

Not "still video" (as in more information on video products) but still video (as in using video technology for making still images or snapshots). Still-video cameras have been in development for several years and prototypes have been shown at CES in prior years. However, this was the first time that companies like Canon, Sony and Olympus were showing actual production models.
All still-video cameras use a 2-inch floppy disk that stores 50 frames or images. Each image is stored as digital data and can be retrieved instantly. Some companies like Canon use the camera itself to play back the images through a television whereas Sony and Olympus require separate players to view the image.
Based on the Hi-Band video standard, all of these still-video cameras have the same quality pictures and basic features. All are capable of capturing images with up to 300 lines of resolution. The magnetic disk used to store the electronic images is erasable and reusable and is compatible between all makes of still-video cameras. The major differences between different cameras are the particular features of each. Some have a built-in telephoto adapter while others have a macro adapter for close-up shots.
Most of the cameras have a built-in flash, can take individual frames or multiple frames per second and are about the same size. Automatic exposure and white balance are also standard features. Other features include self timers, rechargeable batteries and point-and-shoot ease of use.
The Sony
Mavica
(an acronym for Magnetic Video Camera) MVC-Cl weighs just over a pound and measures 53/4 by 2'/4 by 4'/4 inches and is designed to fit in the palm of the hand. The MVC-CI includes a 15mm f/2.8 fixed-focus lens that provides sharp images of subjects at a distance of 1.5m to infinity. The built-in flash is automatically activated in low-light conditions, and the camera is capable of shutter speeds from 1/60th to 1/50th of a second.
In addition to single picture shooting, the Sony still-video camera offers continuous high-speed image recording at either four or nine frames per second. A "blank search" function automatically advances the disk to a blank frame so accidentally erasing an image is avoided (to erase a picture, the separate playback adapter must be used).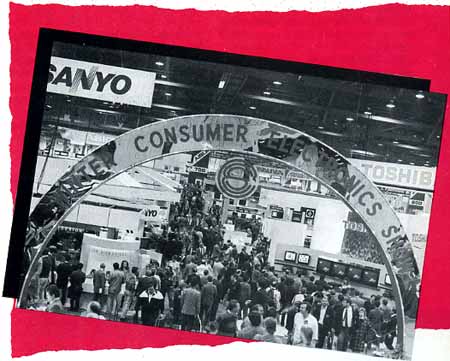 The playback adapter, the
MAP-T1
is powered by either batteries or AC and can use an optional wireless remote control for convenience. The
MAP-TI
also fully charges the camera in one hour. The camera will retail for $650, and the playback adapter will sell for $250. Both will be available by the time you read this.
The Canon still-video camera is called the
Zap Shot
. In addition to the standard features like built-in flash, auto-exposure, etc., it features a built-in macro mode for extreme close-ups at 12 inches. Recording and playback functions are all contained in the 15-ounce body, and it uses a 11mm f/2.8 fixed focus lens.
The
Zap Shot
can take pictures either individually or at three images per second and contains a built-in self-timer. When taking pictures, you can let the camera automatically find the next highest blank frame, or you can manually set it to any frame you want. The
Zap Shot
will sell for under $1,000 and be available by the time you read this.
Olympus was the third company showing a still-video camera, but it was still a prototype. Like Canon, Olympus uses a separate playback unit for viewing the video images. Also, the company announced that they will have a stand-alone still-video recorder/player.
The Olympus
V-100
is almost twice the weight of the other still-video cameras shown at CES, but the added weight means added features. It has the fastest continuous shooting mode (15 frames per second), and the camera contains a built-in 9-27mm 3x power zoom lens (equivalent to a 35mm camera 49-147mm lens). The
V-100
also offers automatic date recording (year/month/day) on the video image and automatic backlight exposure compensation.
The
V-200
AC-only playback unit also offers unique features. Multi-screen playback allows 4, 9, 16 or 25 pictures to be simultaneously displayed on the screen at once. Digital effects like negative reverse and digital solarization, adjustable intervals between individual pictures (much like a slide projector) and high-speed continuous viewing of 15 images per second are possible. Other features include wireless remote-control operation, single-track and all-track erase capability and on-screen display of date stamp and track number.
The
V-300
still-video recorder/player offers features aimed primarily at the professional user. The unit is compatible with many video sources such as external video cameras, VCRs, laser-disk players, etc., can record either continuously or individual images and has S -VHS (Y/C) type output connections. In addition, interval recording is possible from one second to 99 minutes. Interval playback is also possible with a range of 1-99 seconds.
The
V-300
also offers high-speed continuous playback at 2, 5 or 10 frames per second. Further, a programmable playback function is provided and random access to any frame is possible. And, as if this were not enough, a wireless remote control is provided as standard equipment.
Olympus clearly has the professional or high-end user in mind with their line-up of still-video products. At press time, pricing and availability had not been established. However, Olympus representatives say that the products should be out sometime around the middle of the year.
Home Automation

Home automation is a relatively new product category. There are existing products that fall into this category such as smart security systems, automatic sprinkler systems and programmable AC outlets and switches. One problem with these products is that each company has designed their own techniques for device control. As a result, products from one company will not work with products from another company.
A small exhibit at CES was displaying a new home-automation standard designed to make the automated home a reality. This technology is intended to allow home entertainment products, major appliances, security systems and heating and air conditioning equipment to work together by means of a standard bus.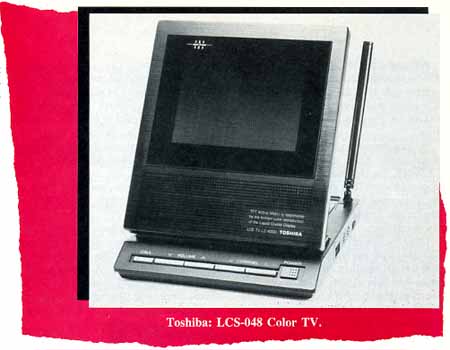 Called CEBus, it is an evolving Electronis Industries Association home-automation standard. Using a CEBus system, you can choose which electrically powered products in your home you want to operate automatically-products as different as your TV, electric corn popper, garage-door opener or computer.
Another area where CEBus products and home automation in general will be useful is for people with disabilities. Disabled individuals will be able to better control their environment with safety, security and convenience. For example, a visitor at the door can first be identified and then let in without the person having to get up. Since the CEBus standard is flexible, new products can be designed especially for the elderly, bedridden or other people with special needs.
More Calculators

Hewlett-Packard makes the finest calculators money can buy. They have been making calculator models for business, science, engineering and statistics since the early 1970s. Although their products don't compete with the kind that you buy at the supermarket, HP has broadened their line to now include lowend models that start at about $50 retail.
Two new models were introduced at CES this year: the
HP-10B
business calculator and the
HP-20S
scientific model. Celebrating their 50th year in business, HP says they are able to offer low-priced calculators because their research and development and manufacturing departments have been working together at an earlier product-design stage which reduces overall costs.
Aimed at business professionals and students, the
HP-10B
is HP's first business calculator with a list price of under $50. It offers the same quality and reliability of HP's other more sophisticated models and contains the essential business and math functions for solving problems such as loan calculations and cash-flow analysis.
The
HP-10B
uses an algebraic entry system and features statistical functions, basic math functions and a 15-register memory. Also, it contains an automatic constant function for repetitive calculations, forecasting and linear-regression functions and a one-line by 12-character LCD display.
The
HP-20S
scientific calculator also uses the algebraic entry system and contains 15 math, ten trigonometry and nine statistical functions. In addition, the
HP-20S
features base conversions and arithmetic in decimal, binary, octal and hexadecimal modes. Further, polar-rectangular, hour/minute/seconddecimal hour, degree-radian and Englishmetric conversions can be performed.
The
HP-20S
also features keystroke programming whereby the machine "records" your keystrokes as you solve a problem and then lets you "play them back" as a program. The programming capability also includes conditional testing and branching. The calculator has ten storage registers and a 99-step program memory. The
HP-20S
uses a one-line by 12-character LCD display and sells for $50.
Cellular Telephones

It appears that cellular telephones are really taking off these days. The technology is not that old but the convenience it offers and the continual improvements made by the manufacturers have spurred the growth. The industry reports that there are now about a million subscribers and another million are expected to hook up in 1989. With those kinds of numbers, it's not surprising that cellular telephones are one of the hottest areas of consumer electronics today.
One of the fastest growing segments of the cellular scene is the hand-held portable cellular telephone. These high-tech communications devices look like Walkie-Talkies and allow telephone communication just about anywhere. In fact, while at CES in Las Vegas, I was having lunch at a local restaurant when a policeman came in for his lunch break. He was carrying a Walkie-Talkie
and
a hand-held portable cellular phone. I noticed during his meal that he was in constant contact with his dispatcher via the cellular phone.
With prices continuing to drop and improvements being made with the hardware, consumers are lining up to buy these phones and start using them on the go. Whether it's a consumer product or a business tool, the market has grown so large that these phones are available from stores like Radio Shack, the Crazy Eddie's type and telephone company-owned retail outlets.
When portables first came out they were priced at about $2,000. Now, most sell for closer to $1,000, and typical users spend around $100 per month on the service. Recently, two companies, Motorola and STS introduced hand-held models for about $700. Although these units are heavy by today's standards (roughly 28 ounces each compared to the under 20-ounce weight of most portables) interest has been very strong, and the companies are trying to met the demand.
NEC America, Inc. continues with its
P9100
series of portable cellular telephones featuring dual telephone-number capability, alphanumeric display and 832-channel capability. Up to 40 names and telephone numbers can be stored, displayed and automatically dialed from memory. The
P9100
also has last-number redial and a callduration timer.
The NEC
P9100
offers 45 minutes of talk time and up to eight hours of standby, and when not in use, 20 hours of continuous standby. The unit weighs 23 ounces and sells for under $1,000.
The Mitsubishi Electric
DiamondTel 90X
weighs just 18 ounces and is a full-featured model. It offers a full 832-channel operation, dual telephone-number capability, an alphanumeric liquid-crystal display and a 100-number memory. In addition, the 90X provides one and a half hours of talk time and 13 hours of standby time. A scratch pad memory allows you to enter a number into the memory during a call and then speed dial that number by simply pressing one button after you complete the initial call. The 90X sells for under $1,800.
Oki's new
Model 700
portable is also lightweight but full-featured. It measures 7.48 by 2.1 by 1.37 inches and features dual telephone-number capability, automatic credit-card dialing, a 100-name phone directory and electronic menu. It sports a 100-minute talk time or 18 hours of standby operation. Pricing has not yet been announced.
Portable cellular phones are expected to surpass 10 % of the cellular market in 1989. In addition, by 1990 fully half of the cellular telephone market is expected to be comprised of transportable and portable telephones. The models mentioned above are just a small sampling of what is currently available. The future looks very bright for portable cellular telephones.
Other Products

There were also a number of useful and clever products shown at CES. The
Eyeopener
is a $10 eye shield that mounts on a video camera. When flipped into position, it lets you keep both eyes open but makes it much easier to focus through the finder. You don't need to squint and can concentrate better on what you are doing. The
Eyeopener
attaches easily and quickly to any video camera and is adjustable for either lefthanded or right-handed use.
Another interesting product seen was the
Private Eye
from Reflection Technology. This postage-stamp-sized video screen is capable of displaying 80 columns by 22 lines with the clarity of a 12-inch screen as seen from two feet away. Although it sounds wacky, the
Private Eye
works amazingly well. The resolution of the red display (it could also be green) is 720 by 280 pixels, although the company says that higher resolution can be achieved "depending on yield:'
Although not yet a commercial product, the applications for this technology seem unlimited. Imagine the
Private Eye
as an alternative to a laptop computer display. You would wear the headband containing the display tethered to the machine. Or imagine its use by a surgeon. As the surgeon works, the display could show the patient's X-rays or vital signs.
Casio usually has some interesting things at every CES, and I wasn't disappointed this time. In the past, Casio was the first to introduce a mini-keyboard synthesizer at a reasonable price: the
CZ-101
. I bought one of these when they first came out. A couple of years later, Casio introduced the first minikeyboard digital sampling keyboard: the
SK-1
. I bought one of those too.
Casio's latest musical gadget is the
DH-100 Digital Horn
. It is a tad smaller than an alto saxophone and is made out of grey plastic. It sells for $150 retail but can be found for about $100 at discount stores. The
DH-100
comes with built-in sounds of a saxophone, trumpet, oboe, clarinet, flute and synth-reed and uses recorder-type fingering, making learning is easy.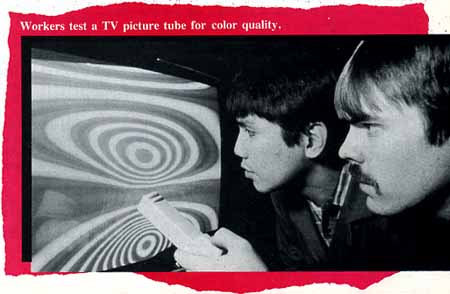 You can either blow into the mouthpiece for dynamic control over volume and tone or set a switch to use the keys like a keyboard with on/off operation. The
DH-100
is battery operated, has a two-octave chromatic scale, contains its own built-in speaker, and has a MIDI out connection.
The Casio
DH-100 Digital Horn
is both easy to learn and fun to play. You guessed it: I bought one.
You always find the unusual at CES and Sanyo had it. Highlighting their activity in solar energy, Sanyo displayed a solar-powered golf cart. Since the vehicle does not run on normal fuel it is very efficient and pollution free. The thing looked more like a vehicle from
Blade Runner
than what you might see roaming the links on a Saturday morning.
Another unusual product seen was the
XPRES'R
electronic-reader board. This 2-inch by 12-inch electronic message display is designed to be mounted in the rear window of a car. The unit is remotely controlled by a handset resembling a cellular telephone with an illuminated LCD screen. The user can select from any of the 198 built-in messages or create up to 64 custom messages. The built-in messages run the gamut from emergency calls for help, safety, traffic tools to humor and animation.
The
XPRES'R
can also be used outside of the car with the optional AC adapter. Messages on the electronic display can be set to scroll, blink, pop-up or drop down, and the messages stay in memory even if the power is removed from the unit. The
XPRES'R
will be available in auto-parts stores by the time you read this. Price is yet to be announced.
At the last CES I saw a product called the
Mail-Call
, a device that used a solar-powered transmitter to alert you by means of an audible noise and flashing light that your mail had arrived. The product is meant to overcome the problem of making trips to your mail box to find that the mail has not yet arrived.
At this show I saw the
Letter Sledder
. Don't laugh-this product extends a curbside mailbox (30 inches) to your car window by remote control. Yes, you can avoid the hassle of having to get out of your car to get the mail with the
Letter Sledder
. The originator, Todd Powers, says the idea came to him when he noticed his wife making ruts in the lawn while trying to retrieve mail from her car. She kept banging the side mirror and car door into the mail so he thought up the solution.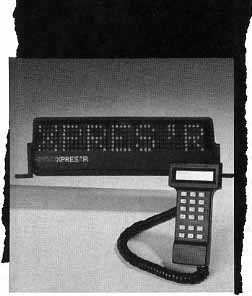 If you want a
Letter Sledder
, it will cost you $200 for an AC model or $250 for a solar-powered version. Oh, yes, the post and mail box cost extra. It can be ordered from Todd Powers Associates. I guess technology is not always the answer to every problem. Okay, you can laugh now. Todd, ever think you might have too much free time on your hands?
It would be hard to imagine what life would be like without our modern technology. And we all get much satisfaction from the audio, video, entertainment and personal electronics products that technology has made available to us. The Consumer Electronics Show is where all the "new stuff' is shown before it becomes available to the consumer.
My definition of "neat things" has changed since I was a youngster. Now neat things are... well... what I see each year at CES. I'm fortunate both to be able to see all of these exciting products firsthand and to later be able to afford some of them. I'm also fortunate that I can share these neat things with you.
Arthur Leyenberger is a human factors psychologist




and freelance writer living in New Jersey. Consumer




electronics is his life.





Companies Mentioned
in This Article



Brother International
8 Corporate Place
Piscataway, NJ 08854
(201) 981-0300

Canon, Inc.
One Canon Plaza
Lake Success, NY 11042
(516) 488-6700

Cobra Electronics Group
Dynascan Corp.
6500 West Cortland Street
Chicago, IL 60635
(312) 889-8870

Hewlett-Packard Company
Inquiries Manager
1000 N.E. Circle Blvd.
Corvallis, OR 97330
(503) 757-2000


Mitsubishi International Corporation
Communication Equipment Sales Division
879 Supreme Drive
Bensenville, IL 60106
(312) 860-4200

NEC America, Inc.
Mobile Radio Division
4910 W. Rosecrans Ave.
Hawthorne, CA 90250
(213) 973-2071

Opsin Inc.
18550 Firlands Way N.
Seattle, WA 98133
(206) 542-7871

Polyglot
PO. Box 521603
Miami, FL 33152
(800) 634-4692

Reflection Technology
171 Third Street
Cambridge, MA 02141
(617) 890-5905




Sharp Electronics Corp.
Sharp Plaza
Mahwah, NJ 07430
(201) 529-8200

Sony Corporation of America
9 West 57th Street
New York, NY 10019
(212) 418-9427

Todd Powers Associates, Inc.
825 Harper Drive
Algonquin, IL 60102

Toshiba America, Inc.
82 Totowa Rd.
Wayne, NJ 07470
(201) 628-8000

XPRES Communications, Inc.
755-601 West broadway
Vancouver, B.C.
Canada V5Z 4C2
(604) 873-1749

Is DAT DEAD?



According to some sources, Digital Audio Tape (DAT) is the most eagerly awaited audio product since the compact disc. Being able to make very high-quality recordings has excited consumers since the technology was introduced a couple of years ago.
Unfortunately, the wait for DAT in the U.S. is not over yet.
DAT recorders were evident at almost every major audio and video electronics company booth. However, the recorders were not so prominently displayed or hyped as in previous shows. One reason is that consumers still can't purchase DAT recorders on the open U.S. market because manufacturers have been scared off by the threatened lawsuit from the Recording Industry Association of America (RIAA).
The recording industry is concerned that since DAT can make near-perfect recordings of CDs, there will be large-scale piracy of CDs and millions of dollars in lost revenue. The hardware manufacturers, mostly Japanese, counter with an analogy to the LP and cassette markets. They say, DAT is to the CD as the cassette is to the LP: People make copies for their own use and that's fine.
If you look hard enough and are willing to pay premium prices, you can buy "gray market" DAT decks that have been imported from Japan. However, prices range between $1-2,000 dollars, at least three times the price level that they would be at if DAT was as common a consumer product as the CD player. Several companies have introduced DAT players for car use, but there are few prerecorded DAT tapes, and the inability to make your own recordings limits the usefulness of a car DAT player.
Another threat of "premature DAT death" comes from the emerging recordable, erasable compact disc technology that will arrive in the early 1990s. Several companies are now working on an erasable CD which promises the ability to make the same high-quality recordings that can be done with DAT.
Radio Shack's parent company, Tandy Corporation, is probably the most widely known manufacturer doing research in recordable CD technology. Their system, announced last year, is called THOR-CD (Tandy HighIntensity Optical Recording) and is said to allow the user to re-record CDs up to 40 times. Further, once recorded, the blue THOR-CD discs are completely compatible and playable on any current CD player.
Even if DAT becomes stillborn in the U.S. market, the recordable CD products will probably face the same reaction from the RIAA. Whether it's DAT, THOR or whatever, the manufacturers and recording industry need to resolve the issue and many people feel that it should be resolved in the courts by having a hardware company introduce a DAT (or recordable CD) product and let the RIAA sue them. As it stands now, consumers are not benefiting from a technology that can significantly improve the quality of their recorded music.
Still Waiting For Still Video

It is true that still-video photography is a combination of standard still-photography and video. As such, the new technology contains some of the advantages and disadvantages of each technology. One of the major obstacles to the consumer success of stillvideo photography lies with how the user will get printed photos. Both Sony and Canon offer products that will print a video image but the cost of the machines is high (about $2-4,000) and the quality is poor.
Another (perhaps the only viable) alternative is to have photo finishers like your friendly neighborhood Fotomat provide a video-printing service. Professional video printers that cost upwards of $15,000 are affordable to commercial businesses. It doesn't seem too unlikely that you'll drop off your 2-inch still-video disks at the convenience store in the morning and pick up your prints on the way home from work.
As likely as this sounds, the Catch-22 is that photo finishers will be unwilling to provide such a service until there is sufficient demand from consumers. While at the same time, consumers may not embrace the new technology until they have some place to get a hard copy of their images.




What Is The CEBus



CEBus is not a product but a voluntary standard which is close to completion. Manufacturers will follow the CEBus standard when they build and supply you with home-automation products allowing products from different manufacturers to work together. Each product will be smart enough to pick up messages from other products and carry out their instructions.
CEBus-equipped products will be able to provide a variety of functions. For example, interconnected appliances like a hot water heater and dishwasher will be able to communicate with each other so that the dishwasher will not turn on until the water heater sends a message saying that the water is hot enough to wash the dishes. Other examples include the ability to preset your lights, TV and furnace to turn on and off at times you specify.