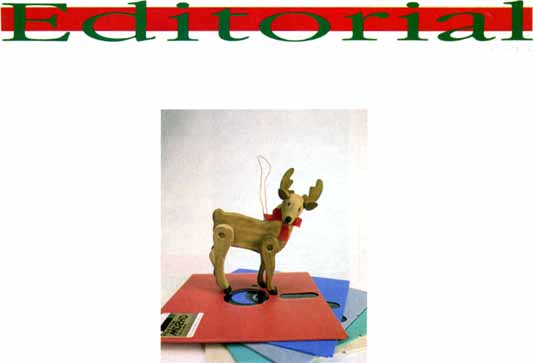 Here it is, Christmastime already. It seems only weeks ago that I dragged the tree ornaments up to the attic. Now I have to clomp back up there (Spiders, yuck!) and drag them all down again.
Is time moving faster? Or is it just me?
The reason I ask is it also seems like only yesterday that I bought my first Atari computer-while the calendar insists that that was almost eight years ago! Eight years! Back then there was no such thing as ANALOG Computing (Can you even imagine that?), though the original publishers, Lee Pappas and Michael DesChenes, were by then mulling over the idea of putting together an Atari newsletter to supplement their already thriving hardware and software store.
In the early 1980s the Atari 400s and 800s were thriving machines. Software packages were being released by the dozens every month, and it seemed as though the dream would last forever. Now as we face 1989, our Atari 8-bit machines-though they still look great to us-have become adrift in a sea of new technology, lost in the new wave as more and more software developers devote their attentions to the newer (and thus more profitable), more sophisticated machines.
If you're still out there doing Christmas shopping for someone on your Atari gift list, however, you'll find that there really is a silver lining in every cloud. All the programs that we original 8-bit owners paid $30 or more for a few years ago can now be found in many discount bins for a fraction of their original cost; sometimes for even less than $5!
It's old software, but it's still great software. If there's an Atari software dealer near you, you owe it to yourself (and those people on your Christmas list) to get down there and see what he may have to offer. In these days when new 8-bit software is as rare as the dodo bird, I can't think of anything that'll bring a smile to a new Atari 8-bit owner more than a box filled with classic software from days gone by. Can you?
Of course, ANALOG is still here to keep all 8-bit owners supplied with helpful information and fine programs. Our files are bursting with great things for 1989, and this issue, though still bearing a 1988 cover date, is no exception.
Game lovers will delight to the fast action and the sensational graphics found in Brian Bradley's
DungeonLords
. Also, Robin Sherer's
Master Memory Map
reaches its halfway point with this issue. Nowhere within the pages of a magazine will you find a more complete guide to your Atari's internals. Action! programmers should not overlook (not that you would) Monty McCarty's
Action! Graphics Toolkit
, a series of Action! graphics routines that you can incorporate into your own programs. And, of course, you'll also find our usual lineup of columns and departments.
So with this issue we bid a farewell to 1988. But 1989 is right around the corner, and with a partnership like ours-you and ANALOG Computing-it can only be a great year.