Editorial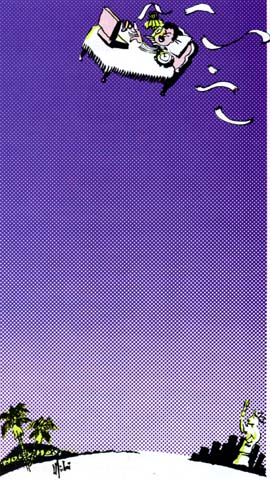 This month's editorial comes to you from high up (about 37,000 feet) in the friendly skies, as I jot down some thoughts about what it's been like for the past few months, commuting from my home in Massachusetts to ANALOG's new offices in Los Angeles. Believe me, it hasn't been easy.
No sooner have I set foot at Logan International Airport in Boston than it seems I have to turn around and make another beeline for the West Coast, banging out a story or an editorial on my laptop en route to meeting publishing deadlines in the City of Angels.
The wear and tear of rushing from coast to coast is taking its toll: I've acquired a haggard, desperate look from not getting enough sleep; my body suffers from terminal jet lag; my fiancee barely recognizes me ("Lee who?") and a sense of cultural schizophrenia has taken root due to the extreme polarities of the laid-back Southern California lifestyle and the East Coast grind. I no longer know whether to order sushi or clam chowder!
So I've made a decision. In order not to burn out before my time ("Publishing Tycoon Commits Hara-Kiri") and to be able to provide the kind of editorial guidance ANALOG needs to maintain the high standards we've worked so hard to reach, I'm heeding the words of Horace Greeley to "Go west." From now on, I'll make my home where the sun shines all year-round, where snow and subzero temperatures are only a memory. Instead of Boston Common, I'll roam Griffith Park. Instead of catching the Sox at Fenway, I'll down my foot-long hot dogs at Dodger Stadium (but still root for Wade Boggs and company). In place of the rocky Massachusetts coastline and chilly waters of the Atlantic, I'll sink my feet into Venice Beach's sandy shores and bodysurf in the moderate Pacific.
And so, like the Clampetts, I'm loading up my truck and moving to Beverly. Hills, that is. Swimming pools. Movie stars.... Well, maybe it's not all it's cracked up to be. I'll have to battle gridlocked freeways, out-of-control smog and the occasional earthquake. But that's a small price to pay to liberate myself from the red-eye express, bad airline food and in-flight movies. Massachusetts, it's been great, but so long. California, here I come!