AwardWare
Hi-Tech Expressions
1700 N.W. 65th Ave.
Suite 9
Plantation, FL 33313
48K disk, $14.95
Reviewed by Matthew J.W. Ratcliff
AwardWare
is a super new printer graphic art program from HiTech Expressions, another in their progressive line of products that consistently support the Atari home computers. Design and print your own awards, certificates, ribbons, tickets, coupons, checks and more.
AwardWare is like a specialized version of
Print Shop
. Its functions are similar in many ways. You may choose from 20 different borders, five different fonts, and 25 different graphics in building your awards. What makes AwardWare specialized is that all the page layouts are done for you.
When run, AwardWare presents an impressive graphics introduction display, followed by the main menu. From here you can move on to "Printer Setup," "Create a QuickAward," "Create Awards and More," "Create an AwardDisk" or "Exit." AwardWare exits the program by forcing the system to reboot instead of your having to power cycle the computer: a nice touch. Creating a QuickAward simply allows you to output an award from a layout that has been all or partially completed for you. To create an AwardDisk, you create an award then copy the award disk. You can then send it to a friend with instructions on how to print the last award. I found it odd that the manual would actually instruct you to copy the program and give it to a friend. However, selection of AwardWare's page designs are difficult without documentation. (This is by no means an approval by the manufacturer to make illegal copies of the software, just permission for limited copying of the software for a specific purpose. This policy is quite unusual, and misleading to the uninformed.)
The manual is well written. It begins with a tutorial on creating your first award, explaining all the parts of the display. Generally you will select the option to "Create Awards and More:" This will bring up another menu at the bottom of the screen with the options to edit the last template (the last award created is always retrievable from disk), create Awards/Licenses, Letterhead/Memos, Checks/Tickets/ Coupons, Ribbons or Miscellaneous.
After a subheading, such as Ribbons, is selected, a smaller menu box pops up showing a number. Press the up and down arrows to change this value, and RETURN to select. You will have to refer to the manual at this point. Every menu selection has its own section in the manual, showing in complete detail all the awards you can choose from, along with the reference number you need to enter.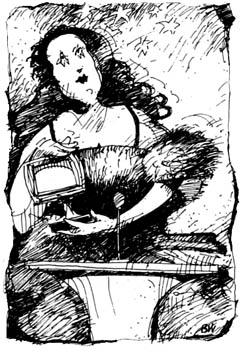 Next the graphic is shown at the top left of the screen, with the first editable area displayed. At the top right, a template menu is shown, along with a description of the current field type. Pressing RETURN brings up a menu at the bottom left of the display, showing all the graphics, borders, fonts, or whatever is appropriate for this area, that you can choose from.
You can move freely from one field on the graphic to the next, and back again. Changes are quick and easy to make. When finished, select PRINT to make a hardcopy of your award, in either final or draft mode.
While printing, you will see a lot of graphics junk on the display. The program uses the screen RAM as a work area while building the printer graphics output. This is done just to let you see the program working. It's a bit more interesting than a simple "Working, Please Wait" prompt.
Printer setup can be selected from the main menu, a wide variety of printers is supported. If AwardWare doesn't support your printer, a printer-driver construction utility is provided. You will need a good printer reference manual and some understanding of special printer codes. You probably won't have to use the printer-driver editor, however, since 19 different printers are supported; with drivers included for Panasonic, Okidata and Star printers. You will also find some unexpected drivers for the Star NB-24 (24 pin printer), Apple Imagewriter and even the Hewlett Packard QuietJet.
There are 60 different award, license layouts to choose from. Three are five different letterhead and memo designs, each having five border layouts to select from. There are two checks, one ticket, four coupons and four ribbon designs available. Under miscellaneous you will find a scroll, key, trophy, newspaper and more. In all, there are nearly 100 unique basic awards you can create. I have certainly had a lot of fun creating awards for my friends at work, ribbons for my sons and "kiss" coupons for my wife. I haven't come across any apparent bugs in the program at all. AwardWare is an impressive little program for the price. I was pleased to find that AwardWare is not copy-protected, allowing me to make a backup copy, as well as install it on my ICD FA-ST hard drive for faster operation (running under SpartaDOS).