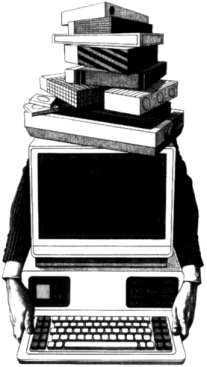 Shopping
for the
computer
user.
by Matthew J. W. Ratcliff
While reflecting one day on what I have and don't have in the way of hardware and software for my 8-bit system, I decided to make a list. This list consisted of many old favorites of mine, a number of new 8-bit products, and even a few ideas for future 8-bit applications. To make a short story long, this list grew, and grew, and grew ... until, finally, it was magically transformed into a 5-page article.
Although you will find a few mindless, blasting video games on this list-a necessity in any Atari shopper's guide-you'll also find listed a number of games that stimulate the mind and actually teach the user-some more subtly than others.
So without further ado, here's the Matt Ratcliff guide to "Shopping for the computer user."
The neatest technical gizmo ever to come out for the 8-bit Atari has to be ICD's
Multiple Input Output Board
(or MIO Board). This device gives you either 256K ($199) or 1 meg ($349) of RAM, to use as super high speed and extremely reliable RAMdisks and/or a printer buffer. This box also provides a standard printer and modem interface. (Most 64K printer buffers cost as much or more than the 256K version of the MIO, and look what else it does!) Finally, there's the hard drive interface, which allows you to attach over 100 megabytes of hard disk storage to your little old 8-bit Atari (an external hard drive, controller, case and power supply are required). ICD had also planned an 80-column add-in board as well, but at this writing, that project is on hold indefinitely.
If you need a simple printer interface, ICD's
Printer Connection
for $60 will do the job. Their high-level
SpartaDOS
is a great disk operating system for the power user ($35), and the
RTime 8 cartridge
($60) is just the card for keeping perfect time stamps on all your SpartaDOS files.
Atari received most of its new hardware from its Taiwan factories. The
XEP80
, an 80-column board, will sell for under $100. It gives the 8-bit Atari true 80-column text capability, with the added bonus of a printer interface.
The new
XE Game System
has also arrived. A 64K "game computer," the
XE Game System
is virtually identical in functionality to the 65XE, with the added bonuses of a detachable keyboard, Missile Command, Flight Simulator II and Blast 'Em video games. The remote keyboard should be nice for laptop typing during marathon editing sessions (like the one I'm having right now-at 4 a.m.)
The Atari
SX212
, a 1200-baud modem that connects directly to the ST or 8-bit with no extra interface required, sells for less than $100. It won't be very useful to 8-bit users, however, without Keith Ledbetter's latest version of
Express
, a telecommunications software package. This program should be on sale by the time you read this.
Atari's double-sided, double-density XF551 floppy disk should also be available now. This 360K floppy disk, operating under the OSS developed ADOS, will transfer data between drive and computer nearly three times faster than the old 1050 disk drive. With the added storage, new versions of popular games can be stored on one disk (instead of two, three or four), eliminating the need for distracting disk swaps.
Announcements about the new Atari hardware should be taken with a large grain of salt. Getting hardware from Sunnyvale, California to the distributors and dealers will take a while. If you have a reputable local Atari dealer, check with him about final prices and delivery. I wouldn't recommend ordering any of the new hardware by mail-just yet. (Some mail order houses will accept your orders (and money) weeks in advance of actual product availability.)
If you're tired of BASIC and losing interest in hacking away at assembly language, you now have several options to move up to a high-level language.
Lightspeed C
($40) from Clearstar Softechnologies is the most complete C compiler package you'll find for the Atari 8-bit. You can comfortably develop your own C code with its support for BASIC-like functions. This package also follows the Kernighan and Ritchie C standard closely, allowing you to learn C as it was meant to be. Writing programs on the 8-bit in C will give you a real head start if you move up to the ST, or into higher level programming classes in school, for example. It is a well integrated package, except for its limited line editor, and the fact that it doesn't take advantage of any Atari full screen editing capabilities. You can use other text editors, but then you lose the convenience of one integrated development environment.
If it's Pascal programming you want to learn,
Kyan Pascal
($70) from Kyan Software, Inc. is a full implementation of "ISO Pascal:' It has a full screen text editor, Pascal compiler, macro assembler, and a 300-page-plus manual. It's a great way to get into high-level language programming on a low-level machine like the 6502-based Atari.
Action!
from OSS is another good high-level language implementation on the 8-bit. The only problem is that it's nonstandard. Action! is not available for any other computers; however, the structured language programming concepts and techniques you learn in Action! will apply to any other structured language. Action! is probably the fastest, most tightly knit development environment of the languages listed here, since it is
supercartridge
based.
No programmer's library is complete without
Mapping the Atari
(revised edition) from Compute!, by Ian Chadwick. It is the most complete memory guide and tutorial manual you'll find for the 8-bit Atari. Selling for about $20, it can be found at most bookstores that carry Compute! Publications. The revised edition consists of expanded information for the XL and XE machines, including several new appendixes (an additional 60 pages or so).
The printworks, moneyworks,
artworks and neatworks.
The Print Shop
from Broderbund is one of the all-time, best-selling applications for the 8-bit graphics machines. This page designer lets you make greeting cards, posters and banners in a variety of ways. Custom fonts, icons and borders are supported.
The Print Shop Companion
expands your font selections by twelve and border selections by fifty! It provides a new editor for creating not only your own custom icons, but fonts and borders too. The Companion can also generate calendars. If you're a regular Print Shop user, the Companion is a must.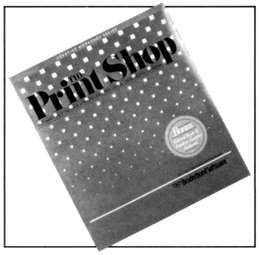 The Print Shop.

High Techs product list keeps growing and there's always a check mark in the Atari 8-bit column. It's one of the few companies left that consistently supports the 8-bit Atari across the board. Their specialty is low cost software that's graphic and printer oriented. They can help you create disk-based animated greeting cards with programs such as
Card Ware
and
Heart Ware
. Or you can design and print your own awards, coupons, checks or ribbons with
Award Ware
. A program quite competitive with Springboard's popular Certificate Maker (which is available for the ST only), Award Ware allows you to "cut and paste" your awards from a large library of forms, borders, fonts and icons. A completed design can be printed on one of the many printers Award Ware supports (or you can use the built-in printer driver editor for odd machines).
If your interest in the Atari ST has been piqued by all the hoopla surrounding the buzzword
desktop publishing
, then
Word Magic
and
Graphic Magic
from The Catalog may be a good introduction for you. This pair of programs is an amazingly powerful word processor and graphics integration package for only $20. But, as is typical of products from The Catalog, documentation isn't all that terrific and you must print it yourself-a tedious process.
The Graphic Magic program can process MicroPainter, MicroIllustrator, KoalaPad, B/Graph and graphics mode 8 files. The Word Magic "view" function lets you preview scaled down pictorial representations of your text and graphics placement.
You can't read in the "view" mode, but can see general text format, page breaks and graphics placement. The processed graphics output files are
huge
(400 SD sectors), so you'll need lots of working disks and patience.
NetWorth
by Mindscape is the complete home money manager. It lets you set up as many as 350 budget categories for tracking your actual income and expenses. You can keep track of banking and credit card transactions, with the ability to reconcile statements instantly. Up to ten bank accounts can be managed, and you can even print checks. It's being promoted as easy to use, with special "help" functions available on the screen at all times. The program "has been tested by Touche Ross & Co., Certified Public Accountants."
Now that the KoalaPad has virtually vanished from dealer's shelves, and the Atari Touch Tablet is scarcer than ever, a good graphics tablet for the 8-bit is hard to come by. Suncom, the well known joystick maker, offers the
Animation Station
($90). This tablet is not unlike others for the Atari (it's even compatible with the Microlllustrator software for the KoalaPad), but it comes with quite unique software; it's certainly a cut above the old MicroIllustrator standard. Its text handling features are phenomenal, featuring many different font styles and sizes, and even colored text. You'll be pleased to know that the software comes with a printer dump feature built in. You can cut and paste shapes, and portions of pictures, and even store them on disk. It comes with a full one-year warranty, and appears to be the best of the best in paint software for 8-bit Ataris.
Keep your computer, printer and disk drive neat and clean with
Classic Covers
($8-12). These vinyl covers are labeled with the Atari logo and computer model they were designed for.
The Great American Cross Country Road Race
from Activision is an impressive conversion of the Sega coin-op game. Similar to Atari's Pole Position in some of its driving aspects, its horizons are much broader.
Your goal is to drive aross America within the allotted time. As you approach the big cities, the various skylines (such as the Gateway Arch in St. Louis) smoothly scroll up over the horizon. Displays are changed to reflect current weather conditions, and traffic congestion is accurately simulated, based on weather, location (near larger cities, traffic is worse) and time. You have an accurate odometer, radar detector, speedometer and gas gauge. In fact, if you run out of gas, you can even push your car to the next gas station.
Mastertronic game programs for the Atari and Commodore generally occupy opposite sides of the same floppy disk. This means you can find Atari titles where only Commodore programs are generally carried. The average price for a Mastertronic game is about $10 list (typically $5-8 in the toy stores). They generally have good graphics, but not always top-notch playability. At these prices, however, you can't really miss with games like
Action Biker
and
Ninja Mission
. (Be sure the package says the Atari version is enclosed.)
Another arcade game worth looking into is
Battlezone
. I saw a superb beta test version at CES that certainly rivals the arcade original. John Skruch of Atari is making sure this one is done right-and it shows. In this "vector graphics" style game, you are looking out the viewport of a tank. The three-dimensional rocks, tanks and other obstacles are easily identified and attacked. You must act fast to avoid cracking up in this superb simulation. Battlezone is a must for any arcade addicts around the house.
Atari Planetarium
from Atari Corp. is a great tool for helping astronomers locate and identify heavenly bodies. You can specify your location on earth and any part of the sky you wish to view, at any time in the past or future (over a span of 9999 years). An accurate representation of a clear sky is displayed. The 115-page manual helps you use the program and teaches about the universe. This is an excellent educational tool, even if you aren't an astronomer.
The most
fun
educational program I've ever used on the 8-bit has to be Randolph Constan's
Super 3D Plotter II
($30) from Elfin Magic software. It lets you create three-dimensional images with a simple text or joystick entry editor. Once created, the image can be "spun" around on one or many axes. When viewing, "erase mode" may be turned off for an instant
spirograph
. Any object on the display may be dumped to the printer or a disk file. Using the proper creation methods, an object may be displayed with hidden line removal and even solid modeling (the sides shaded in one of three colors). It's all done in assembly language, so it's very fast. This program is easy to use, and comes with a good tutorial manual and complete keyboard reference card. Anyone taking a geometry class will learn a lot with this program-and have lots of fun, besides.
The Voice Maste
r from COVOX ($90) is a sound digitizer and recognizer. It can be programmed to
learn
,
speak
and
recognize
new words (with special extensions to Atari BASIC). You can write very simple programs to drill your children on their spelling skills. Also, the computer can "hear" your children complete math problems that are displayed on-screen, then grade their work. Its potential as an educational tool is limited only by your imagination (and memory, of course).
Wargame Construction Set
is not your average war game simulation. Most war games simulate specific battles, allowing you to play out history, while changing some of the battle's variables and studying the outcome. Wargame Construction Set has far more potential.
It comes with eight prefabricated simulations to battle out. Once you're bored with those, you may design your own scenarios, ranging from World War II battles to the Alamo. Imagine the potential this program has for helping you visualize your history lessons, year after year. This is not just another pretty game, but a potentially valuable educational tool.
Silent Service
($35) from MicroProse is a detailed and realistic submarine simulation, in which you control a World War II U.S. submarine in the South Pacific. You can navigate your sub with the aid of charts and maps, as well as a realistic periscope view. You can fire a deck gun or torpedoes. You make all the decisions, from where to patrol, to how to attack the enemy's forces.
Silent Service features player selected "reality levels" and time scaling for accelerated game play. You have a choice of a wide selection of historical scenarios, from individual attacks to patrol missions. This is a
fun
game to play, and you'll learn a lot about WWII in the process.
Chessmaster 2000
($40) by Software Country (distributed by Electronic Arts) is the best of the best chess programs for the 8-bit. The chessboard is presented in a three-dimensional perspective, and can be rotated and viewed from four angles. This feature can be quite helpful when starting a game, and you're looking at a very crowded board. The view may be switched to a simple two-dimensional overhead shot, as well.
There are twenty levels of play, including an infinite level, where the program will continue to search for the perfect move until you stop it. Its features include: game save to disk; board setup; game progress output to the printer; hints to teach the novice; and complete control over the screen colors. Rounding out the package is a disk containing 100 classic games to replay and analyze. Before you join a chess club at school, let the Chessmaster whip you into shape.
A series of educational titles are available from Thunder Mountain, including several programs specifically designed for youngsters ages 4-8. With the help of Mercer Mayer's Tink Tonks
TM
", your children can learn a variety of skills with programs such as
ABC's, Spelling, Develop Thinking Skills
(designed to help children develop reasoning skills) and
Being a Smart Thinker
(which helps develop concentration and memory skills).
For kids ages 5 and above,
Songwriter
by Learningways, Inc. composes music easily, with playback through the computer or stereo. It features a unique, easy to use "piano roll" graphics display of the music, with on-screen commands. All these titles are an affordable $10.
Around this time of year, sports buffs usually start getting a bit restless. A good sports simulation may be just the ticket to tide them over until spring.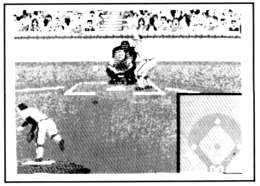 Hardball!

The reviews of
Hardball!
from Accolade raved about superb graphics and realistic portrayals of pitcher and batter, then gave it a high ranking in the playability department, too. It's not a simulation of real baseball players like the "Wizard," Ozzie Smith, but one of forty-eight distinctly different, well defined computerized models. Each has a unique playing style, with differing strong and weak points. You'll soon develop an affection for your favorites. This is a good baseball simulation that will tide you over until next spring.
Accolade is a sports simulation specialist. Their $30
Fight Night
pits you against any of six different boxers, or one of twenty-four possible customized pugilists you "construct" yourself. This is a good implementation of a popular arcade game from a few years back, with the added bonus of custom "bodybuilding" your opponents (an electronic Dr. Frankenstein, if you will). The joystick response is not impressive, but if it's boxing you want, this is the best offering for the 8-bit.
Epyx is also well known for its sports simulations. Their most recent release for the 8-bit is
World Championship Karate
for $35. In it, you participate in karate matches versus human or computer controlled opponents, against the backdrop of eight international settings. The graphics are great; the sound effects and musical score, superb. The motions of the players are smooth and fluid. Their figures are well defined, with some excellent expressions on the faces of the opponents as they battle it out. There are sixteen possible moves, based on the eight joystick positions with the fire button either up or down. It takes a little while to learn, but the controls are logical, and the joystick response and overall game playability rank as tops.
In
Racing Destruction Set
($15) from Electronic Arts, you choose a vehicle, then pick the tires and engine size to match the road conditions. Drive on one of fifty built-in tracks, or design your own, with straightaways, curves, forks, crossovers and jumps. You can also select one of three different surface types: pavement, dirt or ice. With the split screen, you can race against an opponent or the computer. Add some land mines and oil slicks, and your rival will be spinning out and crashing, agent 007 style.
Star Raiders II
($20) from Atari portends to be the
boffo
sequel to the original smash hit Star Raiders, which helped sell thousands of Ataris all by itself. Actually, Star Raiders II was originally called The Last Starfighter, a space war, shoot'em-up tribute to the movie of the same name. Atari bought it, spruced it up a bit and changed the name.
It's still a good arcade-style wrist jerker which will provide hours of challenging play time. In this renewed battle against the evil Zylons, you must warp between two solar systems. In one, you must protect the Atarian Federation cities from attack by the Zylon Master Force. In the other, you must destroy the Zylon Attack Bases by dropping Star Bursts. If you fail to destroy the Zylon Attack Bases, your foe will continue building new Zylon squadrons to attack your cities. You alone command the only ship capable of destroying all the Zylon forces.
TrailBlazer
from Mindscape is a superb 3D race game-a sort of cross between Rainbow Walker and Ballblazer. The speed is terrific as you blast through TrailBlazer. Your opponent is left in a cloud of dust as you effortlessly leap over black holes, purple walls, blue bouncers and even the terrible "nasty zone." The game features high-speed animation, graphics and sound that push your computer to the limit. Each player gets a split screen view of the playfields. You can play any of the twenty fixed courses or the killer random option. It supports several play modes, including one- and two-player arcade, race and trial, plus an impossible computer opponent.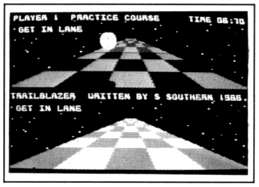 TrailBlazer.

Wizards, princesses and magic.
Wizard's Crown
($40) from SSI is a fantasy role-playing game in the style of Dungeons and DragonSTM. Your characters may be selected from eight standards, or custom built. Each character has life, dexterity, intelligence and strength attributes. You accumulate experience points in your quest. This game features good graphics and user-selectable battles. Its biggest drawback is the distracting disk swapping during game play.
Nearly all Infocom text adventures are available for the 8-bit Ataris. Recently, the price of
Wishbringer
was dropped to $15. An intermediate-level game, Wishbringer provides a good introduction to the Infocom works. Users will get a chance to heal the damaged tendons in their joystick wrists, while putting a lot more time into an Infocom game than into the average shoot-'em-up.
The Infocom programs are not merely games, but stories that you become a part of. The best thing about these stories is that you help develop the plot and determine the ending. Other recent releases from Infocom include
Stationfall
, a sequel to the hit Planetfall, and
The Lurking Horror
. These Infocom games are in the $25 to $40 price range.
Once you're hooked on these games, it's quite easy to get stumped, especially if you're a newcomer to the world of interactive fiction. Infocom's
Invisiclues
TM
make great gifts. Each booklet contains enough hints to help solve the game completely. Each clue may be revealed selectively with a special marker. Invisiclues are available for all Infocom games, and are priced at about $7 each. They can generally be found in B. Dalton and Waldenbook stores that sell software.
A good entry-level Infocom game is
Moonmist
, an interactive whodunit. Since it's relatively simple to solve, there are four different solutions to this mystery, to help maximize play time. This game is unique in that the suspects you must deal with in this murder mystery will actually give you hints when needed.
Ghostbusters
($15) from Activision is the video game that lets you star in a homegrown version of this whacky battle with poltergeists run amok. With limited funds, you cut and paste your plan of attack. Select one of four ectomobiles (cars) and equip it with a variety of ghostbusting gear. Then drive around town and catch ghosts until the Marshmallow Man appears. You must try to get past him to enter the Temple of Zuul. If you succeed, you'll win more credits-to build a better ectomobile the next time you play.
Firebird, of
The Pawn
fame, is well known for their superb graphics and neargenius command parsers. The Pawn, now available for the 8-bit ($40), has a virtually identical text scenario to that, of the ST. The graphics are very well done. Rather than smashing all the pictures to fit, you can scroll the display over the larger views. This method retains much of the original work's superb graphics, with the minor trade-off of having to scroll the display. Two more text and graphic adventures of lesser sophistication are available from Firebird:
Jewels of Darkness
($25), a rendition of the original classic simply called Adventure; and
Silicon Dreams
($25), an adventure of robots, intergalactic travel and a lost city of Eden.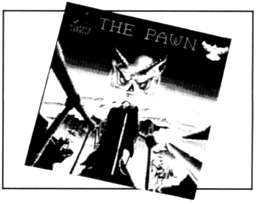 The Pawn.

Do you have a MAD magazine fan in the house? If so, the
Spy Vs. Spy
video game series may be an ideal gift. In this parody of the Spy cartoons in MAD, you take control of one of the characters and play an interactive game of high adventure and intrigue through "simulvision:" Each player has a window, a simulated video screen. Off to the side is a score and status window. Anytime one of the spies enters the other's view, vision is switched to that window, where a battle ensues.
Your players search rooms in the Embassy Espionage mission, to swipe a top secret briefcase and catch a getaway jet; or do some daring beach combing in the Island Caper mission, to assemble a missile and escape on the rescue submarine.
Both games come in one package called
Spy vs. Spy Volume I & II
($15) from Accolade Inc., distributed under the Avantage Software label. Playing against the computer makes for short games, but Spy vs. Spy is well suited to two-player encounters.
---
Matt would like to thank Jeff Randall of Randall's Home Computers in St. Louis for his invaluable assistance in preparing this article.
Companies Mentioned within the Shopping Guide
Accolade
20813 Stevens Creek Blvd.
Cupertino, CA 95014
(408) 446-5757

Activision
PO. Box 7286
Mountain View, CA 940,39

Atari Corp.
1196 Borregas Avenue
Sunnyvale, CA 94086

Broderbund Software, Inc.
17 Paul Drive
San Rafel, CA 94903
(415) 479-1170

Clearstar Softechnologies
1501 Wood Avenue, #36
Sumner, WA 98390
(206) 863-8523

COMPUTE! Books
P.O. Box 5406
Greensboro, NC 27403

COVOX Inc.
675-D Conger Street
Eugene, OR 97402
(503) 342-1271

Electronic Arts
2755 Campus Drive
San Mateo, CA 94403

Elfin Magic
23 Brook Place
E. Islip, NY 11730

Epyx
1043 Kiel Court
Sunnyvale, CA 94089

Firebird Inc.
PO. Box 49
Ramsey, NJ 07446

High Tech Expressions, Inc.
2699 South Bayshore Dr.
Suite 1000A
Coconut Grove, FL 33133


ICD, Inc.
1220 Rock Street
Rockford, IL 61101-1437
(815) 968-2228

Infocom
125 CambridgePark Drive
Cambridge, MA 02140

Kyan Software, Inc.
1850 Union Street #183
San Francisco, CA 94123

MASTERTRONIC
7311B Grove Rd.
Frederick, MD 21701

MicroProse
120 Lakefront Drive
Hunt Valley, MD 21030

OSS
1221B Kentwood Avenue
San Jose, CA 95129
(408) 446-3099

Phoenix International Company
1090 South 350 East
Provo, Utah 84601

Software Country
9713 Santamonica Blvd.,
Suite 204
Beverly Hills, CA 90210

SSI
1046 N. Rengstorff Avenue
Mountian View, CA 94043

Suncom
260 Holbrook Dr.
Wheeling, IL 60090

The Catalog
524 Second St.
San Francisco, CA 94107
(800) 443-0100 ext. 133

Thunder Mountain
PO. Box 1167
Northbrook, IL 60065-1167