Reviews
Leaderboard
by Bruce and Roger Carver
ACCESS SOFTWARE, INC.
#A 2561 South 1560 West
Woods Cross, UT 84087
48K Disk $39.95
I've been waiting for an 8-bit golf simulation. Seeing and playing golf games on various computer systems (especially the ST) had, until now, left me jealous of the bigger systems, dying to get my 800 out on the course, but afraid I'd have to send it out to pasture. And I yearned to play golf, without regard to the realities of fickle weather. Now I can.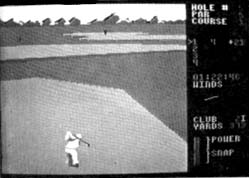 Leaderboard
Leaderboard
is the first 8-bit golf simulation I've had the pleasure to examine. And, since it satisfies the basic requirements for playability I consider it the best one available. This status, however, is not due entirely to its monopoly; it's because this game lets you do just about everything it should, without any unnecessary input or awkward control.
Golf diehards can play up to seventytwo holes on four different courses. (Unfortunately, most holes are pretty straight.) These courses are challenging. It will take considerable practice to score any pars (much less birdies).
Up to four players can compete in three difficulty levels. An amateur's ball is unaffected by the wind, although it may hook or slice. A pro has to deal with hooks, slices and wind, while a novice has none of these. This handicapping assures a close competition. After initial options are chosen, players move to the practice range.
Access has placed all control on the joystick-where it belongs. Moving the stick in various directions makes menu choices (club selection, aim and desired viewpoint). Pressing the button starts your backswing; releasing it, your power stroke. A final press snaps your wrists. This system simulates the control of a golf swing nicely, recognizing the components. A power gauge on the screen provides a timing stimulus.
Like the real game, a little too late on the wrist snap and you slice; a little early and you hook. Putting works in a similar way, with a magnified power gauge calibrated in feet and another indicator showing the slope of the green. But there's more to read here than just the greens.
There's a well written manual which completely explains control of this complex simulation. Numerous charts help illuminate screen displays, as well as the average ranges associated with various clubs. Also documented are layouts of the four courses. I was disappointed that, while the manual contained a section on the different methods of scoring, the program did not support items such as match play. Pen and paper must be resorted to when using these scoring methods.
Although the program is not copy protected, a special key must be inserted in joystick port 1 to get the game going. The hard part is determining which port is number 1 on the XE (it's the back one). While the key is just another thing (an important one) to lose, it's better than having your game on a single, uncopyable disk of limited lifespan.
The graphics are great, so sharp and distinct you see the splash as your ball hits the many water hazards. Realistic sound effects also enhance play. On the down side, I would have liked an editor for custom courses, and a save game feature was sorely missed.
Despite these divots,
Leaderboard
is a nice addition to everyone's software library-and a must for golf enthusiasts. Its only downfall is that it might simulate the game a little too well. As on the outdoor course, you still have to watch out for lightning.
I don't think anyone could go wrong with any of the above games. In fact, they're all so good I refuse to name a single best. Each is a class act in its own field. As for next month, we're not so lucky. But I'll wait till then to give you the bad news.